By now, we hope you've heard about the Vancouver Waterfront. Whether you last visited a decade ago or just a few months back, you won't believe your eyes, and its high time you head back over and see everything that's new to experience.
It's been nearly a year and a half since the first restaurants opened on the newly developed Vancouver waterfront, and a celebration marked the first time in more than 100 years that residents and visitors gained urban riverfront access. Quickly becoming the most Instagram-worthy locale in the city, the Grant Street Pier gives a unique experience of standing over the river, and people from all walks of life enjoy the outdoor amenities.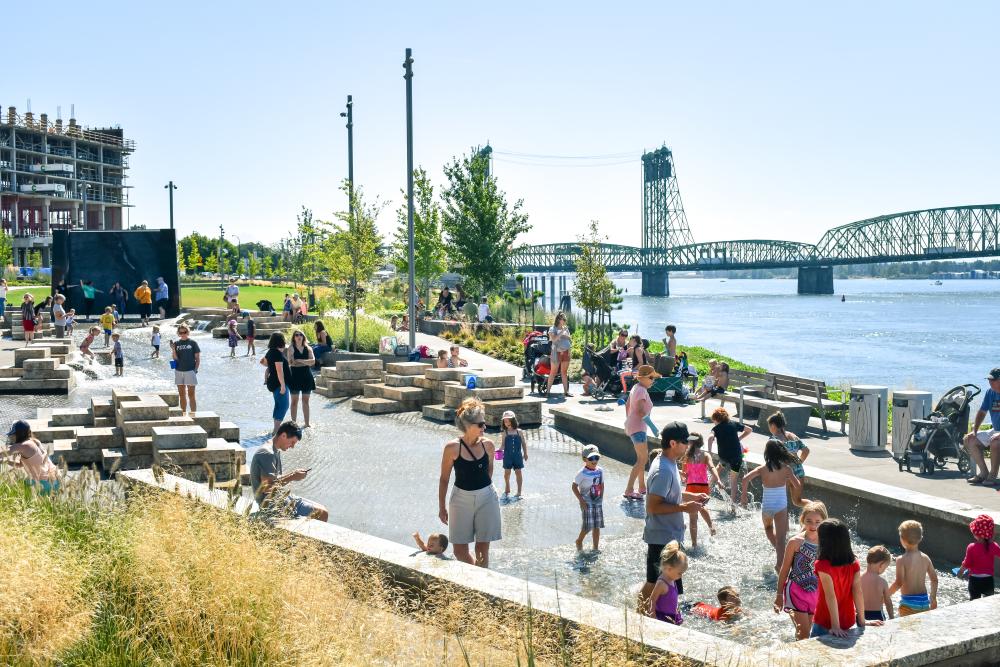 New Arrivals
Perhaps the addition that garnered the most excitement last year was the Headwaters Wall, a family-friendly water feature and play area in the City of Vancouver's Waterfront Park. Crowds of children with their parents splashed around in the shallow stream, while onlookers marveled over the hand-etched map and topographical cast.
Casual and upscale dining options joined the line-up of riverfront eateries in 2019, including the award-winning Maryhill Winery's newest tasting room, a local brewery pushing the industry's edge of innovation with the Portland area's first self-serve beer wall, and Stack 571 grilling up mouth-watering gourmet burgers with an impressive list of whiskey to boot. WildFin debuted its seasonal, newspaper-themed walk-up window last spring for a quick grab-and-go bite.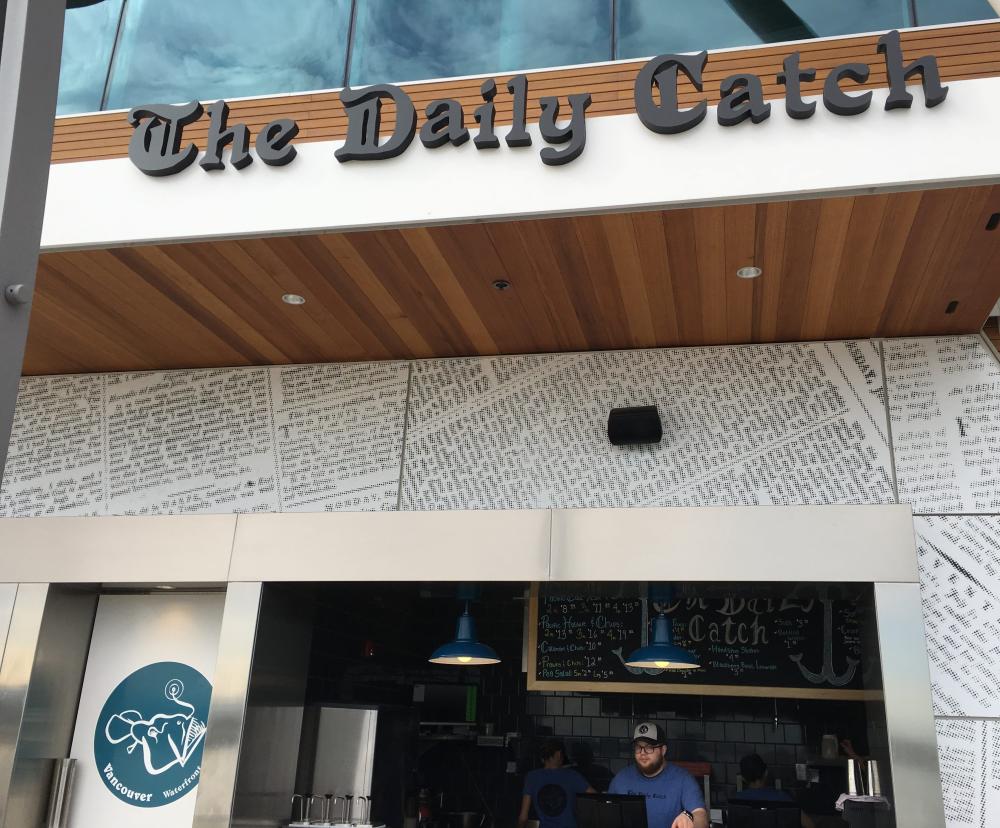 Coming Soon
Pepper Bridge Winery and Amavi Cellars anchored the year of new openings with a joint tasting room that exudes minimalist sophistication. Next month, Airfield Estates and Brian Carter Cellars are slated to open their own wine tasting spots, and Naked Winery's bar is anticipated to open in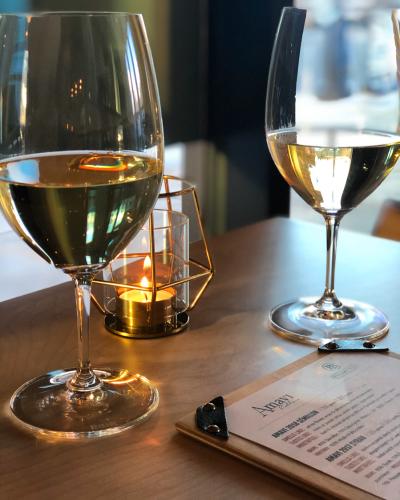 the fall. This brings the tally to five tasting stops within .2 miles of each other for a make-your-own Waterfront Wine Walk that won't disappoint.
Tapas and pizza will expand the variety of cuisine offered at the waterfront this spring. DosAlas Latin Kitchen & Tequila Bar will bring elevated Mexican and Caribbean flavors to its polished second-story space, and Pizzeria sul Lago specializes in wood-fired Neapolitan pies and other Italian classics. Portland-based casual pasta shop Grassa is rumored to be jumping the river as well.
Where to Stay
For about another year, downtown's Hilton Vancouver and the east waterfront's Homewood Suites by Hilton are your best bets. The Hilton is less than a half-mile walk from the waterfront and located across the street from Esther Short Park, where summer festivals and concerts keep it buzzing. Local breweries and eateries are a short stroll away. Homewood Suites (less than two miles from the new section) is near the "old" waterfront and shouldn't be overlooked. McMenamins on the Columbia and Beaches Restaurant are Vancouver favorites, and the Waterfront Renaissance Trail runs five miles along the shore, connecting the somewhat dichotomous sections intersected by the Interstate Bridge.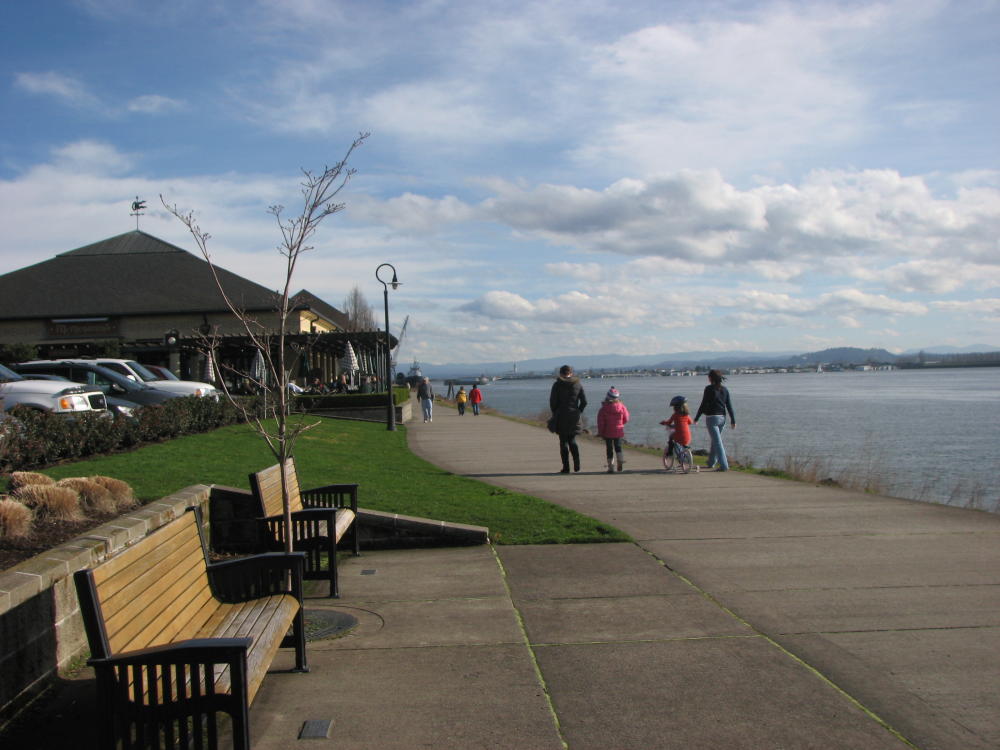 With old-timey ship vibes, dine at Warehouse '23 while you have the chance as it is in its final year of service before being knocked down as part of the Port of Vancouver's lengthy plan. Terminal 1's new AC Marriott will be the second hotel to take root on the waterfront, after the Hotel Indigo (Vancouver's first boutique hotel) opens late this year. A public market, similar to Seattle's Pike Place Market, is projected in the next decade.
Be on the lookout for our new Travel Magazine that details the past, present, and future of the waterfront with sample itineraries and more. To pre-order your free copy, write "2020" in the "Company" field of the online form. You will receive a copy in early April.