Marketing Opportunities
Partnering with Visit Vancouver WA on advertising and promotions is a great way to be part of our broad marketplace reach. Participating local businesses have a presence in a market that might not otherwise be possible. Our team produces many publications that enable you to target your advertising to specific markets.
For advertising information on any of these platforms, please contact our marketing department.
Vancouver WA Travel Magazine
This beautiful full-color magazine is the official visitor publication for Vancouver and Clark County. It contains information on area attractions, events, lodging, restaurants, shopping, and relocation. Tourism is big business in Clark County. In 2021, visitors spent more than $500 million at local shops, hotels, restaurants, attractions, and other area businesses. Reach these visitors directly with an ad in our annual Vancouver WA Travel Magazine!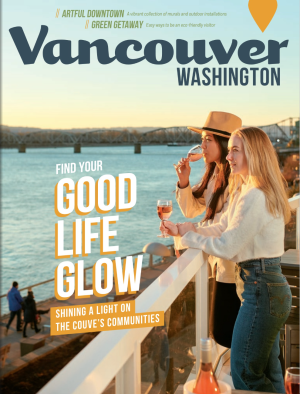 Audience: Visitors and conference attendees
Distribution: Distributed statewide and to regional visitor centers throughout the Northwest.
Quantity: 95,000
Pricing: starts at $1,065
Space reservations due: Feb. 24, 2023
Distribution date: April 2023
Contact Robert Page at Sagacity Media for more information on advertising. Download the 2023-24 media kit.
Website Digital Advertising Opportunities
Working exclusively with Destination Travel Network (DTN), Visit Vancouver WA offers a great way to maintain a marketplace presence with digital advertising that is both economical and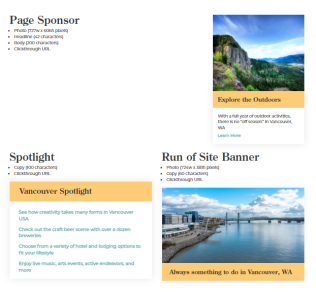 effective. Advertising options include highlighted text links, priority listings, banners, and page sponsors. Each individual ad or campaign is customized to reach unlimited viewers. Monthly reports tracking progress are delivered to the advertiser.

Distribution: Ads are viewed by all visitors at www.VisitVancouverWA.com
Quantity: Unlimited online views
Pricing: Starts at $35
Contact DTN Advertising for more information on advertising.