Let's Play!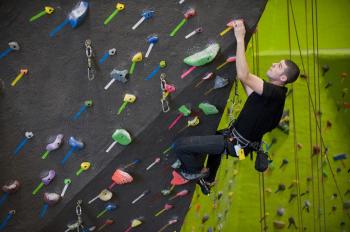 Gather the team together for a bonding trip to the bowling alley, the ice skating rink, or the climbing gym. Try your hand at aerial yoga with Elevenaerial Vancouver, swing inside of low-flying aerial silk (think Cirque de Soleil) but at beginner levels and fun for any age! Let the kids get out some extra energy at Vancouver's indoor trampoline park, or have them exercise their minds at an escape room—an adventurous activity where the team uses puzzles and clues to crack the code. Our mini golf course is inside the Vancouver Mall for 18 holes of safari-themed, glow-in-the-dark fun.
Fill the team's 'downtime' with an outdoor activity, like disc golf or trying out one of the city's skate parks. We have many family-friendly places to explore, including the 191-acre Fort Vancouver National Historic Site. To find events happening while you are visiting, check out our events calendar.
Let's Eat!
What are you in the mood for? Pizza is always a go-to, post-game favorite and Vancouver has 10 original pizza places to please your craving, including the notable Bessolo Pizzeria and Uptown's Piehole Pizzeria. For a quick grab-and-go meal, try one of our (more than a dozen) roving food trucks that bring a variety of cuisines to the area.
Large, kid-friendly spaces for the team and the athletes' families can be difficult to find, but we suggest these eateries: Try Beaches on the shore of the Columbia River, Hopworks Urban Brewery for great food and even better beer, or Who Song and Larry's for delicious Mexican food and a lively atmosphere.
Contact Us!
If you would like more ideas on post-game activities, let us help you out! Contact our sports event services team and we'd be happy to suggest some ideas that will make your whole crew even more excited about your visit.