Fishing in Vancouver, WA
Washington State has earned its reputation as an outdoorsman's paradise—boasting six national forests, more than 3,000 miles of tidal shoreline, and 200-plus state parks. For seasoned fishing pros or aspiring anglers, Vancouver USA's many rivers, lakes, and ponds make it a fun and accessible destination to cast a line.
The Columbia River anchors the fishing community with its plethora of salmon, steelhead, walleye, bass, and catfish. Explore the local river ecosystems at the Water Resources Education Center with interactive exhibits and hands-on activities, free and open to the public Monday through Saturday.
For visitors interested in exploring less familiar waters, the rivers and lakes of North County lure fishing enthusiasts with hidden fishing holes, seasonally stocked waters, and numerous hatcheries.

Klineline Pond, located in Salmon Creek, is open for fishing year round. Klineline is heavily stocked with rainbow and brown trout, making it a favorite for families and first timers looking for a surefire catch. Bring the little ones to the Kids Fishing Derby—the largest of its kind on the West Coast—to fish and learn about water safety and natural resources. Kids even get to keep the fishing poles!
The lower North Fork of the Lewis River provides ample fishing opportunities. Fly fishing experts will enjoy casting for early and late stock Coho salmon and Chinook salmon in spring and fall. Rounding out the year, summer and winter runs of steelhead keep the river busy with activity. Popular and productive spots include near the salmon hatchery and Cedar Creek Hole. The river provides plenty of bank access, but boaters can find launching sites at the Island boat launch, the Haapa launch, and across the river from the Lewis River Hatchery.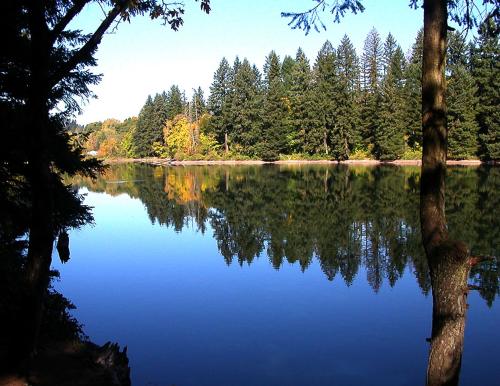 Horseshoe Lake, in Woodland, was part of the Lewis River until it was cut from the river in 1940. Water is pumped into the lake and is managed as a catchable trout and warm water species body of water.
Lake Merwin and Yale Reservoir, about an hour drive northeast from downtown Vancouver, both provide outstanding Kokanee fishing. Kokanee can be caught from spring to fall, but plankton blooms in late spring bring the fish closer to the surface, creating ideal fishing conditions. If you plan to take the boat out yourself, recommended methods for Kokanee fishing include trolling, still fishing, and jigging.
Lacamas and Round Lake are located just east of Vancouver in Camas and are stocked annually with brown and rainbow trout, usually in the springtime. Perch, sunfish, bluegill, bass, and catfish are also swimming the waters. Stretch your legs on the three and a half mile Lacamas Heritage Trail.
Battle Ground Lake is stocked every winter and spring since the 1930s with thousands of rainbow trout and coastal cutthroat trout. Make it a weekend trip and pitch a tent at one of the 35 campsites, or hunker down in a rustic cabin.
For more information about fishing spots and seasons in Southwest Washington, visit the Washington Department of Fish & Wildlife's website.