It's Patio Season!
The warm weather is here, and everyone is looking for a place for outdoor seating to enjoy the sun. Check out some of the best patios in Vancouver WA for indulging in tasty food, thirst-quenching brews, and quality craft wines. 
Restaurants with the Views
Feel as if you are on a sailboat at the restaurants along the waterfront, situated in the shadows of the 75-foot mast protruding from the Grant Street Pier. Sip on Washington wine under umbrellas at Maryhill's tasting room, and try some fresh seafood on WildFin's patio or at their walk-up What A Catch Fishbar window. But don't forget the oldies-but-goodies on the other side of the Interstate Bridge—it's hard to beat McMenamins on the Columbia and Beaches Restaurant & Bar for their riverfront patio views and delicious grub along the Columbia River Waterfront Renaissance Trail.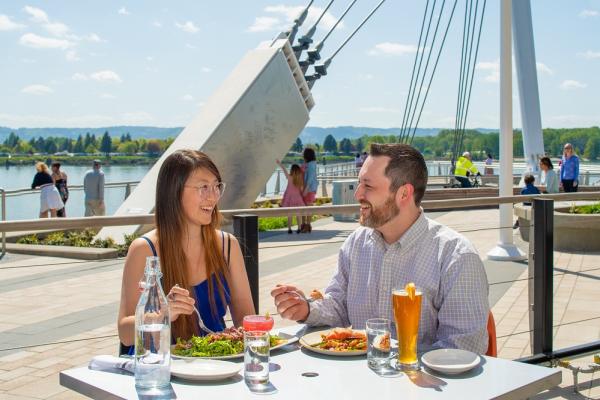 Downtown Favorites 
Feel a part of Vancouver's welcoming downtown as you sip on a fresh margarita from the outside seating at Little Conejo. Or find Mav's Taphouse's patio lined with ivy and a welcoming vibe to pair with your choice of local brew. Enjoy the sunshine at The Mighty Bowl serving healthy bean and rice bowls, wraps, smoothies, and salads with an artfully unique patio set up. For a front-row seat to the summer festivals at Esther Short Park, visit the expansive patio at Grays Restaurant and belly up to the cedar bar for unbeatable park vistas. Head to Elements Restaurant for an intimate dining experience, with global influences & techniques, using locally sourced and sustainable ingredients. Enjoy the front patio on a sunny day for a charming view of Main Street.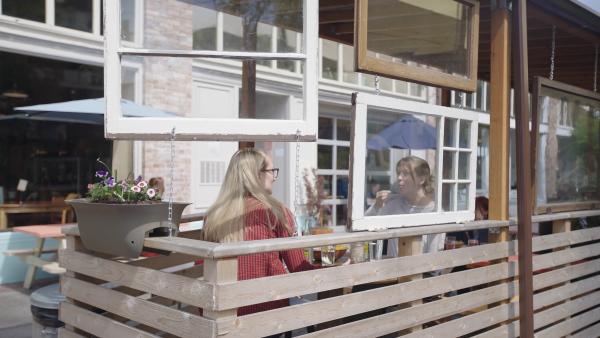 Dog-Friendly Patios
Traveling with your trusty pup? Have no fear; dog-friendly patios dot the city for all to enjoy. Trap Door Brewing in Uptown Village invites dogs to hang out in its outdoor "Beer Porch" next to a few food carts for snacks in the sun. Visiting four-legged friends even have their own Instagram! In downtown, Heathen Brewing Feral Public House is the undisputed patio king—boasting a 200-seat space, dozens of outdoor taps for beer and wine, massive nacho plates, and water bowls for the canine crew. Head north to 3Peaks Public House & Taproom for enough space for Fido to run around in the field, usually with small children in tow. Order seafood from neighboring PNW Best Fish Co. while enjoying a local brew. Make your way east to Grains of Wrath Brewery, Hopworks Urban Brewery, or The Hammond Kitchen & Craft Bar for more puppy-loving outdoor eateries.
Backyard Brews 
There's nothing quite like drinking a local beer at a picnic table in the sunshine. These pubs give you the homey backyard feel for ultimate relaxation. Head to Doomsday Brewing Safe House for rotating taps, cider, wine, and food truck flavors. The Thirsty Sasquatch is a cozy and unique taproom and outdoor space serving up 22" pizza pies and creative craft cocktails. You won't want to skip this stop with activities happening almost every day of the week (think bingo, vintage pop-up shops, tap takeovers, and more). And Brothers Cascadia Brewing in Hazel Dell offers lower and upper-level seating outside, with an array of food carts in its pod.
Wine and Dine
While almost every winery in the Clark County area has outdoor spaces to enjoy, you won't want to miss these popular sunny-day-sipping spots. La Uva Fortuna Farm transports you to a little town in Italy with a light-strung courtyard and authentic tasting room. Choose from wood-fired pizza or pasta, or items in the Italian market, during a dinner concert or secret happy hour event. Relish a charcuterie board alongside a fine Cabernet Sauvignon on the floating dock at Bethany Vineyard & Winery. Head to the outskirts of town to find Moulton Falls Winery or take a shorter journey to Cellar 55's urban escape in downtown Vancouver. And don't miss renowned satellite tasting rooms at the Vancouver waterfront from Brian Carter Cellars to the anticipated Willamette Valley Vineyards.