Something big is on the horizon in Vancouver USA!
After more than a decade of planning and building, Vancouver's new waterfront will open to the public in summer 2018. The $1.5 billion public-private partnership between the City of Vancouver and Gramor Development will bring new attractions and experiences for all visitors to enjoy. Here's our top five reasons to get excited—let the countdown begin!
1. Grant Street Pier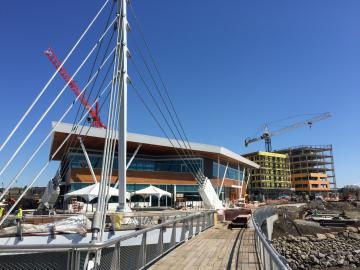 What's that over there? Is it a giant sailboat? A beautiful bridge? No, it's the new Grant Street Pier! Jutting 90 feet out over the Columbia River, Grant Street Pier was specifically designed by nationally-renowned public artist Larry Kirkland to evoke the billow of a passing sailboat. The pier and nearby plaza will surely be a favorite gathering spot for book readers, lunchtime eaters, riverside joggers, and vista seekers.
2. Vancouver Waterfront Park
If Grant Street Pier is the symbolic shining jewel of the new waterfront, the Vancouver Waterfront Park is the surrounding crown. Following the curves of the river, the new park will stretch across 7.3 acres of green space and include picnic spots, sculptural components, and walking trails connecting to the existing Waterfront Renaissance Trail. Prepare to enjoy a peaceful stroll at sunset or lace up your tennis shoes for an invigorating morning run.
3. New Restaurants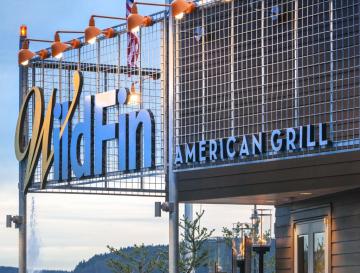 Foodies rejoice! Three new restaurants have been announced for The Waterfront with more on the way quicker than you can say, "patio dining." Twigs Bistro and Martini Bar promises a sophisticated dining meets riverfront boathouse atmosphere with its signature cocktails. Across the promenade, regional maven WildFin American Grill will offer sustainably grown and responsibly harvested seafood delights. Look forward to stopping by the walk-up window for a fresh catch of the day. For fast-casual eats, MidiCi Neapolitan Pizza Company is setting up shop just around the corner.
4. Easy Access
Before The Waterfront sprouted its iconic pier and distinctive buildings, the site was a former industrial area closed off to the public for more than 100 years. Now, restored access has made it a closely connected part of Downtown Vancouver. Located just three blocks from Esther Short Park and the Hilton Vancouver, the area is easily accessible via Grant Street or Columbia Street. Did we mention you can readily spy the park, pier, and buildings from Interstate 5?
5. The Views
We will keep this one sweet and simple: The Waterfront will offer stunning views of the Columbia River, Mt. Hood, and the surrounding area. Photographic evidence below in case you doubt us.