Vancouver, WA family vacation ideas you can use on your next trip
Sophisticated, clean, and modern, yet approachable, accessible, easy to get around, and full of activities for children? When our family of four was looking for things to do with kids in Vancouver, WA, we came away with amazing experiences that can give you family vacation ideas for your next trip.
We want to thank Visit Vancouver Washington for sponsoring our visit. Our opinions, however, are our own.
Heathman Lodge: Where to stay in Vancouver, WA
Vancouver is home to over three dozen hotels, lodges, B&Bs, and more, such as the Hilton Vancouver WA and the Best Western Plus Hotel & Suites. Yet family-friendly accommodation can turn up in places you might not expect.
Less than fifteen minutes drive from downtown Vancouver, The Heathman Lodge combines classic Northwest big timber woodwork, high ceilings (and birdsong over speakers in the hallways), with a relaxed elegance. The Heathman is a place where you can dine well, relax comfortably, and yet still know that you can wander with your kids, splash in the indoor pool, and be just minutes from outdoor recreation and other attractions.
For those meals where you'd rather dine on-site, Hudson's Bar & Grill offers sumptuous brunches, lunches, and dinners, including a kid's menu. While our kids feasted on eggs, grilled cheese sandwiches, chicken strips, and french fries, we parents treated ourselves to a brunch of Hudson's signature huevos rancheros. The alchemy of savory chorizo, fresh eggs, and the tang of arbol pepper pepped up our spirits for a day of adventure.
The Waterfront: Romps, picnics, and relaxation by the Columbia River
If you haven't been to Vancouver over the past few years, then you don't know Vancouver.
When a paper mill closed in the 1990s, the city took a fresh look at the 30 acres that had formerly been a heavy industrial site closed to the public. After years of site restoration and construction, Vancouver has seen a mix of public and private investment of $1.5 billion in its waterfront renovation. The end result? Along with apartments, condos, and businesses with stunning views of the Columbia River, we could enjoy a seven-acre park that runs alongside one of America's biggest and most scenic waterways. Things to do with kids in Vancouver, WA, abound along the waterfront.
Grant Street Pier: A stand-out view over the Columbia
From nearby public parking lots, it was easy to make our way out to the Grant Street Pier. The far end stands 90 feet out over the waters of the Columbia River below. We took some quiet moments to enjoy the views of Oregon to the south and the Oregon-Washington Bridge to the east. The pier also made a perfect sundown backdrop for a family vacation photo.
Headwaters Wall water play: Bring the swimsuits
Kids love a splash pad. But what really makes a splash pad special? Combine it with local materials, weave rich historical and cultural knowledge through every surface, and add a bas relief map of stone and bronze. The Headwaters Wall and accompanying splash play area represents not only all 1,243 miles of the nation's seventh-longest river but the entire Columbia Basin throughout Canada and the US. From the wall, a cascade of water feeds a wide, long, shallow, enclosed wading pool. Aster ran up and down the length of the pool, climbing on the surrounding stonework. It's a wonderful spot for the kids to splash and giggle, even if they might need a change into dry clothes after.
Twigs Bistro: Ask for a table with a river view
Just down from Grant Street Pier and the Headwaters Wall, Twigs Bistro and Martini Bar gives you a chance to rest from your park strolls. Request a river view inside, or choose an outdoor table on the covered patio. We especially appreciated the bespoke gluten-free menu. The innovation underlying every Twigs plate especially shines in the Orange Chicken Salad. An anise touch of basil rides along with refreshing orange flavor, the crunch of tempura chicken, and crispy wonton pieces.
The Vancouver Waterfront has become a natural haven for restaurants, eateries, and more. Not far from the waterfront, you can also check out The Mighty Bowl, Nom Nom, Saap Fusion Kitchen. Or, snag some fish and chips (and a soft-serve ice cream cone) at What A Catch, where the parkside walk-up window is just off the waterfront's paved path. Fancy a burger instead? Pair one with a milkshake at family-friendly Stack 571, right on the waterfront.
Find family fun with the Vancouver Scavenger Hunt
We love to have a family-friendly grab-bag of activity ideas. It helps us choose what to do depending on the day, the weather, or everyone's moods. Something we found helpful? The free Vancouver WA Scavenger Hunt has a ready-to-go list of attractions and things to do with kids in Vancouver, WA. Sent to you directly via text or email, there's not even an app to download. Just fire up the hunt on your device and start exploring.
Bring the past alive in Vancouver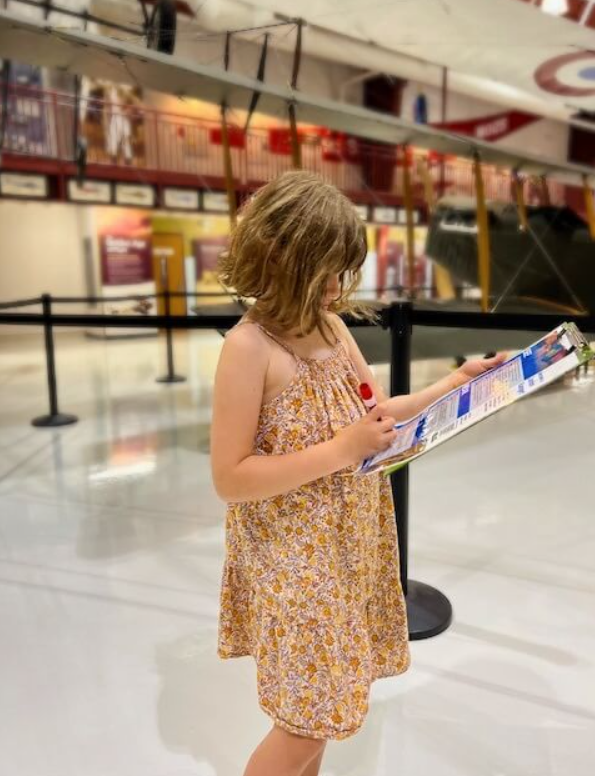 As a homeschooling family, our travels subtly weave in educational experiences for our son and daughter, and Vancouver is home to must-stop places that have been pivotal in American history.
Pearson Air Museum
During 1918, over 5,000 US soldiers found themselves in Vancouver, far from the European fronts of World War I. Their task? As part of the US Army's Spruce Production Division, they produced nearly 185 million board feet of lumber for the warplanes crucial in bringing victory to the Allies.
The Pearson Air Museum brought this history alive for our second grader and fifth grader. Showcasing actual American and German planes from the early 20th Century, the free museum details milestones in aviation and displays a scale model of the massive Vancouver Spruce Mill and its barracks. The National Park Service Ranger at the front desk can also give you the activity sheet the kids can complete to earn a Junior Ranger badge.
Fort Vancouver
Just down from the Pearson Air Museum and also part of the National Park Service, Fort Vancouver National Historic Site is still surrounded by a 20-feet high stockade of sharpened fir logs. We discussed with the kids how different the area would have looked when the fort was established in 1824, one of the earliest permanent American settlements this far west. Even now, the fort seems set apart, but displays, performances, and talks bring that distant past alive for kids and adults alike.
Local parks & playgrounds in Vancouver, WA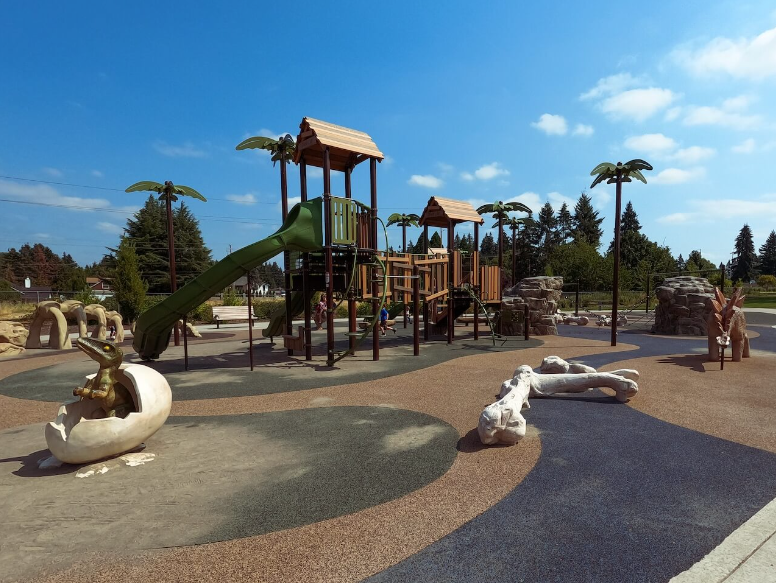 With so much dining, wandering, and learning to do in the Vancouver area, we parents know how important it is to build in downtime. That's when we beeline to a local playground where the kids can romp, and we adults can sit back and reflect on the trip.
Nikkei Park: New, fun, and full of climbable dinosaurs
Only open since 2021, Nikkei Park spans five acres of grass, trees, and play structures ready for kids big and small. The dinosaur theme alone had Connor telling us to set our nav. Once there, both children took turns riding the triceratops and stegosaurus and looking for dinosaur eggs.
Traveling parents know you can never have too many playgrounds in your proverbial back pocket. Wherever we were in Vancouver, local parks were typically just minutes away.
Open spaces and tall trees make Marshall Park calming and full of free play opportunities. Or, head to Arnada Park—complete with nearby Uptown Food Cart Village for when bellies rumble.
When in downtown, Esther Short Park is not only the Northwest's oldest park. Five urban acres combine peaceful spaces such as the rose garden, the events pavilion, and a new accessible play area (under construction during our visit, but queued up for our next Vancouver family vacation).
Great family day trips from Vancouver, WA
When your family vacation takes you to Vancouver for a three-day weekend or a longer stay, fast access to I-5 and Washington State Route 14 make it easy to day trip to natural areas and more, such as:
Vancouver Lake: Less than 15 minutes from downtown Vancouver itself, the 234 acres of this park are perfect for getting on the water. Bring your own paddle craft, or rent from local outfitters like Alder Creek, up north in Ridgefield.

Hummocks Trail and Coldwater Lake: With incredible views of Mount St. Helens, Hummocks Trail also offers an ADA-accessible area at nearby Coldwater Lake.

Columbia River Gorge: Trails at Beacon Rock State Park and Cape Horn offer sweeping vistas and scenic overlooks.
Vancouver, WA gives families so many ideas for kid activities and vacations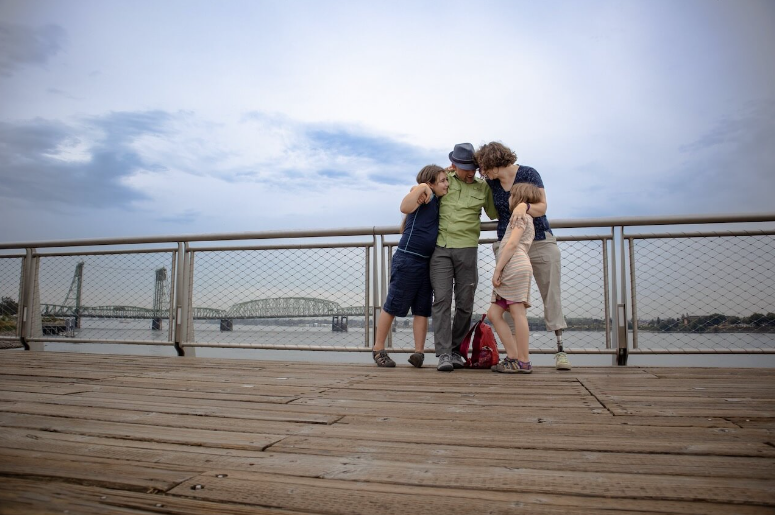 Our family's time in Vancouver brought us to the mighty Columbia River, dinosaurs the kids could ride on, delicious fresh meals, and the bounty and beauty of Northwest city close to both Portland and Seattle. We are already planning our next vacation back to the area—and wondering how many new places we'll check out during our next family trip to this family-friendly city that's near so much, yet is a place all its own.
Images: Learners and Makers