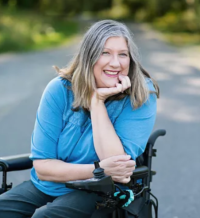 A crisp bluebird day in Vancouver, Washington truly invigorates the spirit. The sun shines in a clear (or sometimes cloudy) sky and the evergreens radiate their fragrance. The choices in activities abound for all, including for those of us with limited mobility. I have ambled about the area in my powerchair for the past 19 years. Below, I share five of my favorite wheelchair-friendly outings around Vancouver.
1.       Fort Vancouver National Historic Site encompasses 207 acres of grassy fields, gentle slopes, and many historical buildings connected by accessible pathways. It is the original end of the Oregon Trail and the former headquarters of the renowned Hudson's Bay Company. The McLaughlin House and other wooden structures of the historic fort are easy to access in a wheelchair via a lift, ramps, and level paths. The Pearson Air Museum next to the fort explains Vancouver's involvement in World War l and ll, and the history of the world's first non-stop, trans-polar flight which concluded here. The museum is spacious, with concrete flooring, and plenty of room around displays. The Grant House and gift shop on the park's north side are also wheelchair-friendly. This stop is a must for history buffs!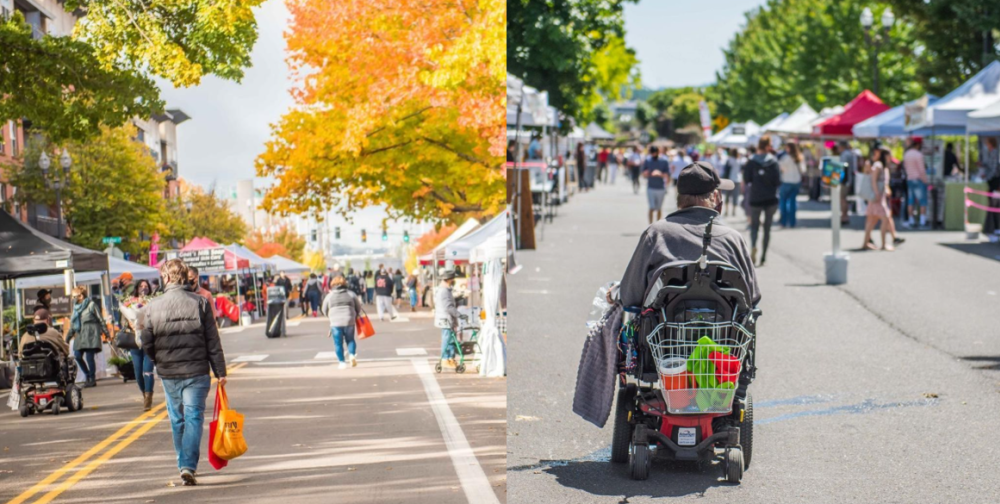 2.       Vancouver Farmers Market, hosted near Esther Short Park from mid-March to the end of October, is one of the best farmers markets in Washington State. A huge variety of fresh produce from local farms, cut-flower bouquets, food booths, pottery-ware, wood art, jewelry, handmade soaps, lotions, and more flourishes in the midst of friendly people and musical entertainment. The park itself offers a fantastic cascading fountain, a unique Glockenspiel, and a big playground.
3.       Vancouver Waterfront Park boasts an awesome, wide half-mile riverfront trail along the scenic Columbia River, lined with top-notch restaurants offering a variety of cuisines. Wheeling along this trail, one is likely to see magnificent ocean-going ships headed to sea or an old-fashioned sternwheeler chugging its way upriver. The artifacts tastefully strewn about from the former paper mill that once occupied this site truly give this park its own flavor. The wheelchair-friendly Grant Street Pier protrudes over the water for a scenic view of Mount Hood and the Columbia River.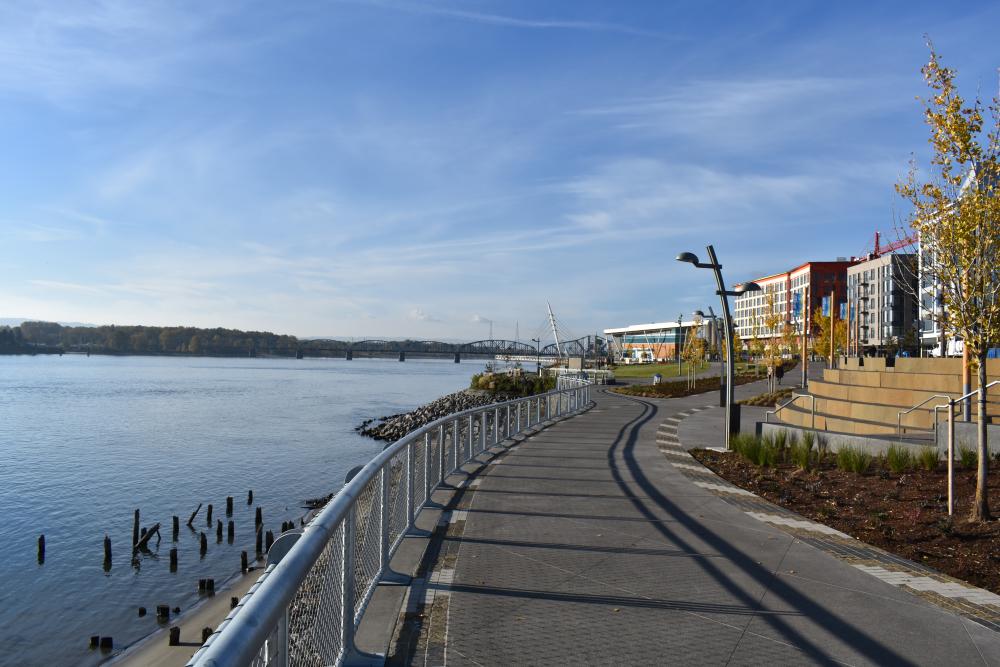 4.       At Moulton Falls Regional Park, a former logging road has been transformed into a wonderful wheelchair-friendly trail that follows the south bank of the pristine Lewis River for 5.3 miles, roundtrip. The view of the cliffs and river from the sixty-foot-high bridge at the trail's east end is breathtaking. It is a peaceful journey through forest typical of the Pacific Northwest, where one wheels among cedars and firs. The wheelchair accessible entrance to the trail is at the Hantwick Road Trailhead parking area, 29601 NE Hantwick Road in Battle Ground.
5.       My final favorite is the 5300-acre Ridgefield National Wildlife Refuge. It has two sections, both worthy of a visit. The Carty Unit provides a roll across a grand pedestrian bridge, with a great view of the wetlands from the top. A half-mile packed dirt path leads to an accessible Native American plankhouse, then off into woods and grasslands.
The River S Unit offers a 4.5-mile driving loop, past marshlands and through riparian habitat. Along this loop, the 1.5-mile packed dirt and boardwalk Kiwa Trail is delightful, as it ventures through oak-fir woods and across boardwalks surrounded by cattails, seasonally bursting with fluffy seeds. Sightings of birds like Bald Eagles, Trumpeter Swans, and Great Blue Heron are common and thrilling!
"These are a few of my favorite things," as the song goes. I hope you try them and enjoy!
Find more of Lilly's accessible adventures in her new e-book, "Wheeling Washington State."