You'll find plenty of dining spots around Vancouver with good outdoor seating, along with some great picnic areas for when your favorite restaurant patio feels a little too crowded for your liking—or you just need a change of scenery! Grab a blanket, pack a lunch, or order takeout, and scout out the most ideal place for an al fresco meal (picnic) tableside.
Vancouver Lake Regional Park
With 65 picnic tables and plenty of grassy areas, you're sure to find a nice patch for spacious noshing at Vancouver Lake. On a clear day, your picnic can even be paired with views of Mount Hood, Mount St. Helens, and Mount Adams. If you plan to participate in some water activities in between bites, be sure to check the current water quality beforehand.
Takeout Tip: Shanahan's Pub & Grill is in route from nearly any direction you are coming from, located 10 minutes away in Uptown Village. Bringing classic American comfort food up a notch, choose from four different burgers on the takeout menu, plus hot wings by the pound and lots of fried apps to share.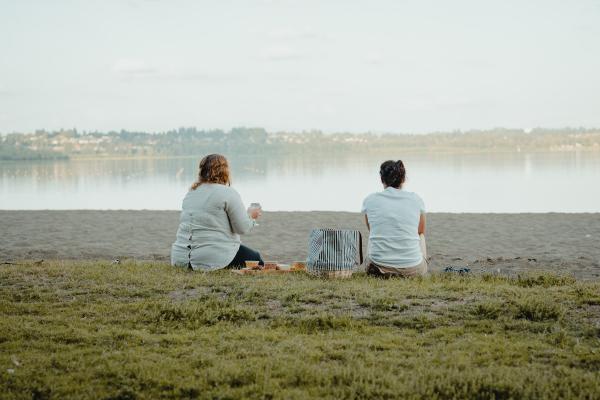 Fort Vancouver National Historic Site
Stay close to downtown and experience the city's history by soaking in the sights of Fort Vancouver. Find your picnic spot in the gazebo, at one of the picnic tables that dot the grounds, or right on the (seemingly always) green grass.
Takeout Tip: Specializing in nutrient dense food made from consciously chosen and simple ingredients, The Mighty Bowl serves healthy bean and rice bowls, wraps, smoothies, and salads—making for the perfect picnic pick!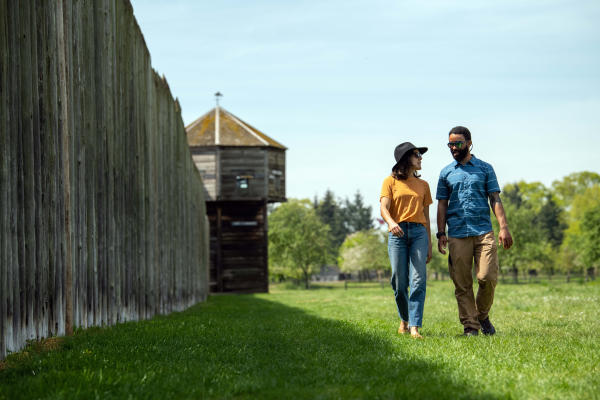 Vancouver Waterfront Park
On a hot summer day, find an open lawn great for cartwheels, soaking in the sun, and seating areas perfect for picnics right on the north shore of the Columbia River.
Takeout Tip: Swing by the seasonal walk-up What A Catch Fish Bar window for a quick bite of fish 'n' chips and a soft-serve ice cream cone—while watching sailboats pass by the 90-foot Grant Street Pier⁠.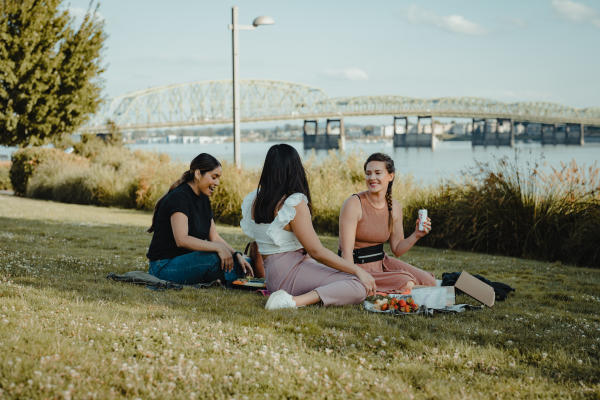 Salmon Creek Regional Park / Klineline Pond
On one end of the paved urban greenway trail, find Klineline Pond, complete with a roped swimming area, sandy shoreline, and 35 picnic tables. Be aware that furry friends are not allowed in the main use area after crossing the bridge.
Takeout Tip: Downtown favorite Amaro's Table has a location in Hazel Dell that just happens to be a five-minute drive from Klineline Pond's parking lot. Try out their online ordering system for soups, sandwiches, and sides, including the melt-in-your-mouth fried chicken Sando and house-made potato chips with a special dipping sauce. Bonus: a dedicated kids menu and desserts!

Photo from Clark County, WA
Wintler Park / Tidewater Cove Marina
Situated on the bank of the Columbia River, you'll find Wintler Park, a 12.5-acre park with an open beach great for playing with the pups, building river sandcastles, and a handful of picnic tables. Or find the paved walkway with plenty of benches overlooking the river and Tidewater Cove Marina with an exceptional view of Mt. Hood on a clear day. 
Takeout Tip: The Heavy Metal Brewing Company is just up the way with some craft beer, wine, and bottle shop options for later. They also serve Artisan-style pizza, subs, and paninis! If you're looking to dine in, The Cove patio offers excellent views of the park and Columbia.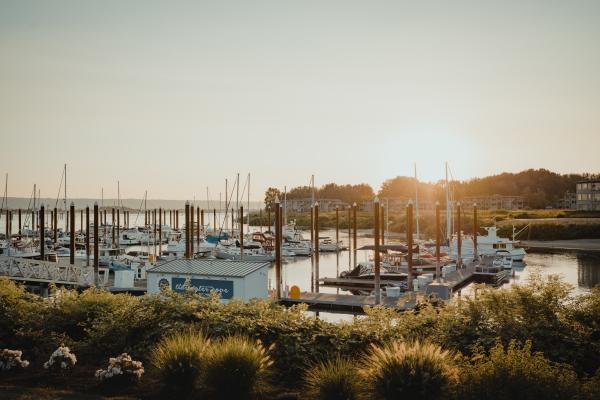 *Some of these parks require a $3 daily parking fee for cars. Bike or walk in at no charge. Find more information and Clark County Park rules here.