Girls just want to have fun? Move over.
Moms just want to have fun. That unofficial mantra mobilized our "Moms on the Loose**'' bike overnight to the Vancouver Waterfront.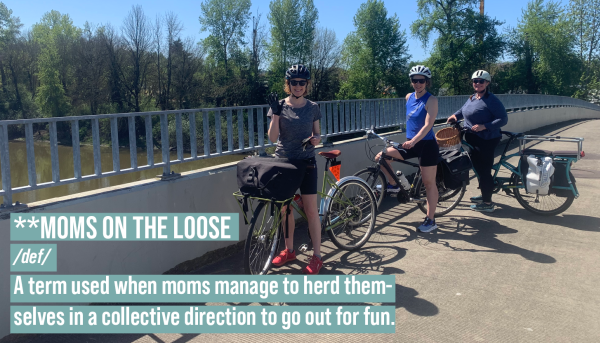 As Portlanders, we had heard murmurs about Vancouver's incredible waterfront uplift, including its eight winery tasting rooms. That was all the motivation we needed to dust off bikes and pump up tires.
Traditionally, cars are the transportation of choice between Portland and Vancouver. But we chose to cycle the 11 miles because—going back to the mantra—riding bikes is fun.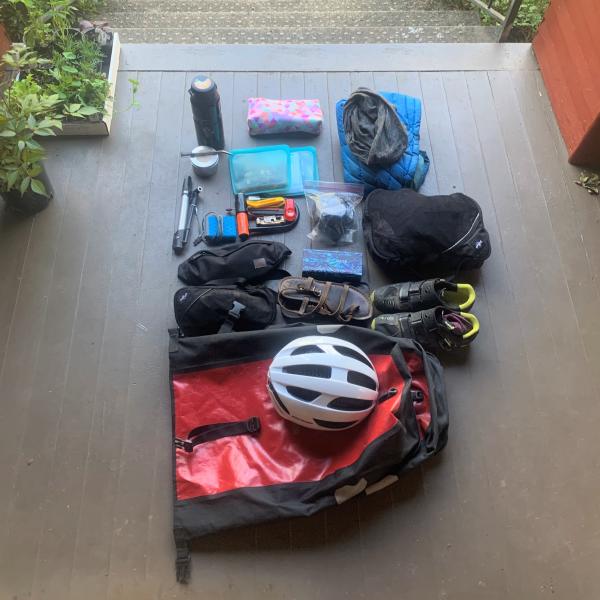 However, don't be mistaken that we are lycra-clad cyclists donning heart monitors. Most of us wouldn't even call ourselves cyclists. Carla showed up on her electric cargo bike "minivan" equipped to haul two older children. It proved helpful for toting wine back to Portland. Brie rode her heavy steel cruiser with mustache handlebars. Lucy, well, she had a proper touring bike made by a vintage Portland bike builder.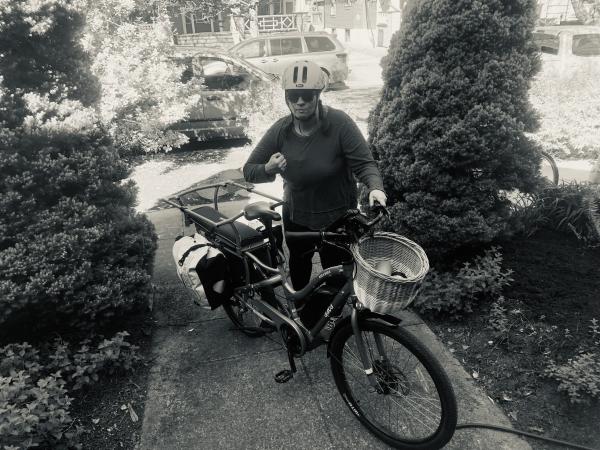 We pushed off on a sunny Saturday morning in spring from Southeast Portland. After sleuthing out the pedestrian/bike access to the I-5 bridge, we navigated the span's narrow passage. After that, it was a relief to roll onto smooth pavers of the Vancouver Waterfront.
It seemed we'd ridden into an alternate universe—a Disneyland of sorts, replete with strolling families, bustling bistros, and sleek architectural features that centered around the sparkling Columbia River. The aesthetic harkened back to the Pearl District's industrial chic, circa 2010. Lending a sense of momentum, planes soared overhead and trains intermittently chugged by.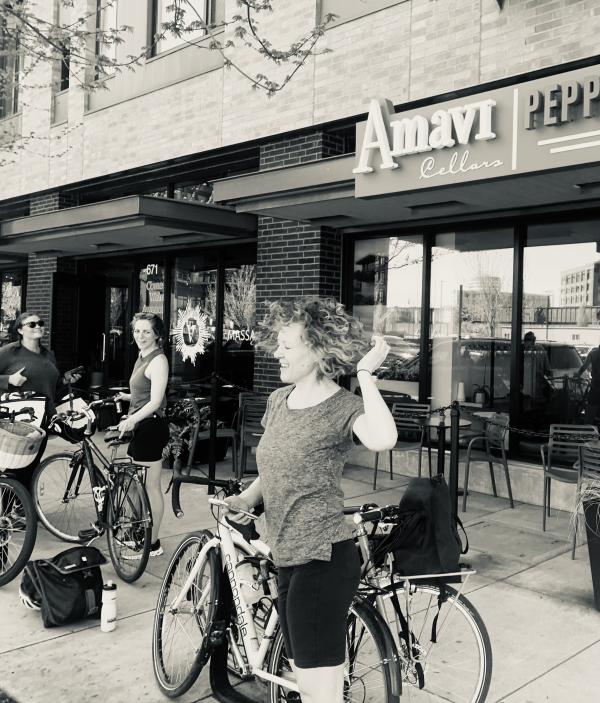 We swarmed around the bike staples in front of the Amavi Cellars and Pepper Bridge Winery tasting room.
Brie dismounted, fished her bike lock from her pannier, and said "I feel like I'm incredibly far from home."
We sat down in the rear of the high-ceiled tasting room. The Western-influenced decor paid homage to the origins of the Eastern Oregon wine. Heidi, the Amavi and Pepper Bridge tasting room manager, was amenable not only to the helmets and panniers that littered our area, but also to our cackling that filled the serene, sun-filled environs. A four-flight tasting and cheese plate later, we were stuffing bottles of the marvelous Sav Blanc into Carla's cargo bike and heading to the Vancouver Wellness Waterfront Spa.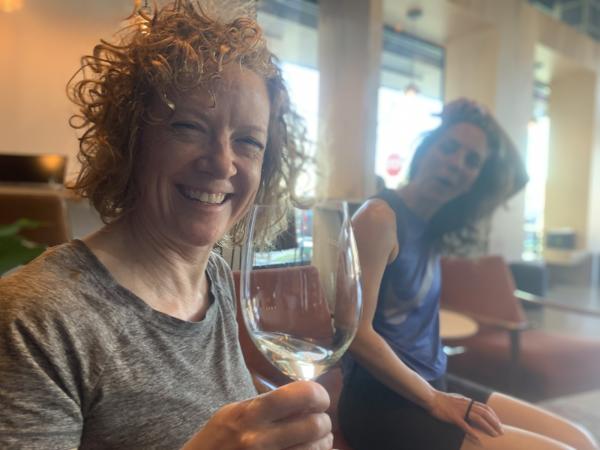 Of course we were heading to the spa. The Vancouver Waterfront provided all the elements of a proper girls weekend. And, y'all, the Waterfront Spa has an IV lounge. We're talking calming drips, beauty drips, and even a rehydration drip if you've found yourself at the harsher end of one-too-many wine tastings. The spa also has more traditional offerings like massage, acupuncture, facials, and a very decadent infrared sauna experience.
Next we checked into the AC Hotel by Marriott. Though sleek and sumptuously-appointed, the hotel wholeheartedly welcomed us sweaty bike travelers. Our room had floor-to-ceiling windows with postcard views of the Columbia River. Pro tip: the fourth floor has an expansive riverside balcony patio that is a perfect place to wind down after an evening out or drink coffee with the sunrise.
After quick showers, we meandered along the waterfront. The restaurants were bursting with diners. Kids splashed around the Headwaters Wall—a water feature designed with a bronze topographical map of the Columbia River's watershed. Joggers running the five-mile Waterfront Renaissance Trail wooshed by us.
Carla turned to me wide-eyed and mouthed, "Where are we?"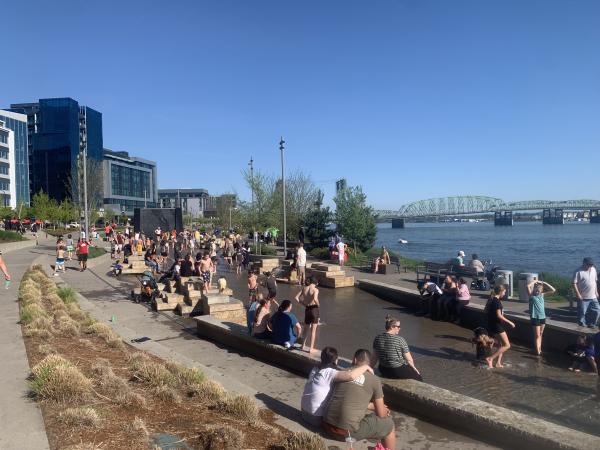 We wandered into the Maryhill Winery tasting room because, in fealty to our mantra, it was time for another tasting. Their plumb spot with righteous river vistas and outdoor seating lulled us into the extended nine-flight tasting. Usually, tasting rooms aren't known for their food. But Maryhill is an exception. Don't miss the perfectly dressed salads, white bean dip, and truffle chips.
After much anticipation, it was time to eat dinner. The dining room at Grassa was pure windows, with high-ceilings and white brick details. In the corner on a wide butcher block table, the staff cut hand-made pasta. That's their specialty. We tucked into spring pea ravioli with yuzu-butter, mint, and crispy prosciutto. It made my eyes roll into the back of my head. The caesar salad—perfectly lemony with big fat anchovies—held its own as well. With a lack of pretension, everything at Grassa points to its priority, the food.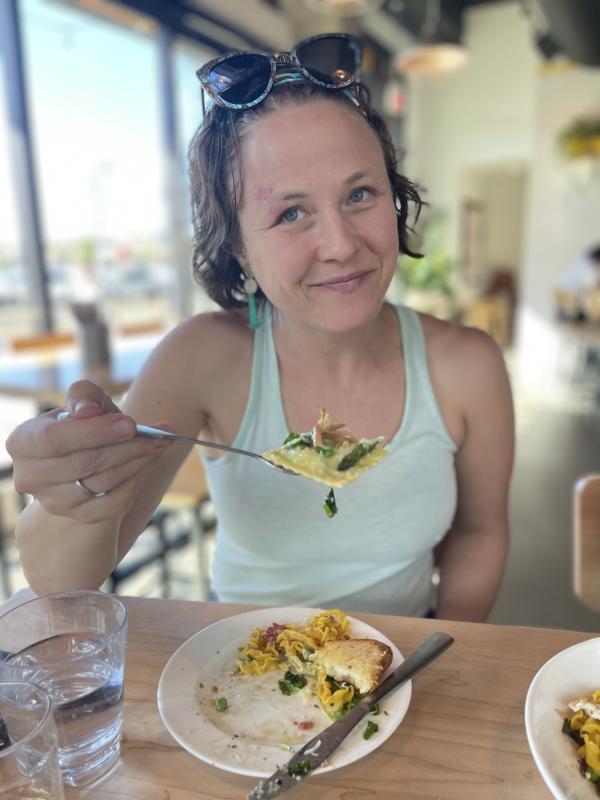 Guided by our mantra, we soldiered on to the Witness Tree Lounge for a cocktail. The intimate hideaway proved to be a place of revelry. People were elbow-to-elbow at the bar, laughing and locked in conversations. Yet the crown jewel of the place was their patio that overlooked the Columbia River and the waterfront hubbub. A bit of advice, don't dare turn down a dirty martini from this place.
On the way back to the hotel, children ran around the waterfront's urban sand beach, concrete features, and lawns. A ten-year-old had even set up an impromptu DJ station and spun tracks for a cluster of other kids. Couples held hands and stood on the Grant Street Pier as the sunset's indigos and purples melted into the horizon's oranges and reds. Clumps of teenagers dotted the broad swath of benches.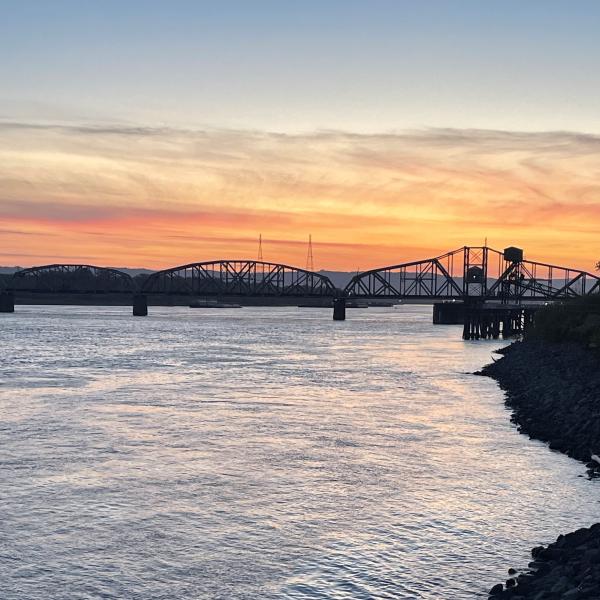 The next morning we didn't need the Waterfront Spa's rehydration drip, but a visit to Kafiex Roaster's Gastro Cafe seemed pretty essential. The double baked croissants, almond flour muffins, and organic espresso were spot-on fuel for the pedal home.
We headed south over the bridge, having held true to our Moms on the Loose purpose. Portland remains my true love, but the Vancouver Waterfront proved a superb dalliance. We'll be back.