While the vision of your ideal day at a brewery might consist of sunshine and picnic tables, the winter vibes can be just as enjoyable—think dark brews packed with flavor, heaters radiating warmth beyond your scarf and wool hat, and the consistent good conversations had after saying "cheers" to making it through another day. Sure, we left out a few details (brr!), but breweries across the nation typically struggle through the winter months, so, let's support our vibrant local breweries!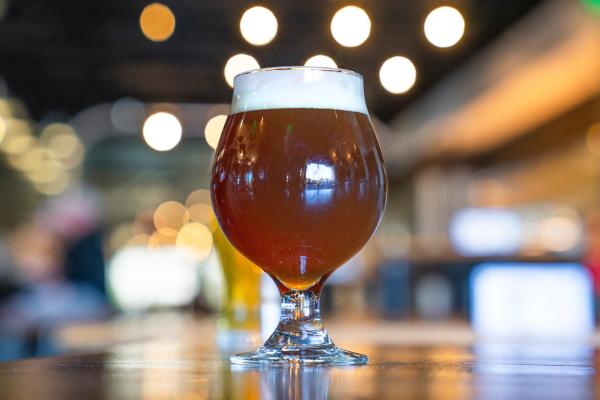 Trap Door Brewing 
Why choose just one brew from Trap Door Brewing when any beer from their selection is sure to please? From the award-winning flagship beer "Glowed Up"—a hazy IPA that never disappoints. To the return of "HoliDANK" with artwork by the winner of their label contest, Jillian Campbell (aka @youngfreedesigns)!
Gains of Wrath
For a trio of seasonal cool beers, find Grains of Wrath! First up is "Hail Santa", which is a spiced ale made with cinnamon, allspice, ginger, nutmeg, and honey. It has a 7% ABV and is sure to get you in the holiday spirit. Next, there's "Nighttime Stories", which is a dark American stout with notes of pine, dark chocolate, roasted barley, and citrus. It has a 7.2% ABV and is perfect for those who like a strong, rich beer. Finally, there's "Dystopia", which is a Northwest IPA with a 7% ABV. It's made with Simcoe, Citra, and Mosaic Hops, which give it flavors and aromas of pine and tropical fruit. Plus, it has a new updated label.
Victor 23 Brewing 
Looking for a great beer to enjoy during the colder months? Look no further than Victor 23 Brewing's "Headless Hijacker," made with seasonal pumpkin for a delicious and easy-drinking experience. And if that's not your style, try any of their other award-winning brews, such as the "Imitator IPA," "North By Northwest Lager," "Jumbo Jet Strong Ale," or "Sugar Plum Fairy Barrel-aged Ale."
Hopworks Urban Brewery
It's Abominable Winter Ale season at Hopworks Urban Brewery! It is the perfect compliment to sitting fireside with friends during cool evenings. With a hint of warmth, combined with layers of flavorful caramel malts and Northwest hops, "Abominable" is the perfect, hoppy companion for hanging with friends. And don't miss the return of "Winter Ritual Cold IPA". Fermented at lower temps, hence the "cold" part of Cold IPA, Winter Ritual is a golden straw color with aromas of pear and pine. Followed by flavors of pine sap, lemon zest, persimmon, and gooseberry, and finishing quite dry with a light lingering bitterness. Grab a pint at the pub or. 4-pack to-go!
Fortside Brewing Company 
Transport to a warmer place with Fortside Brewing Company's "Sunshine Dreamin'," a New England-style IPA with aromas of ripe mango, bright citrus, smooth strawberry, and tart kiwi. Or try the "Night King", an Imperial Stout, perfect warmth and comfort for whiling away the dark nights of winter. Cocoa powder and dark chocolate meld with a floral and sweet malt bouquet, balanced by soft roast, toasted marshmallow, and mocha flavors. Pair with some tacos, nachos, a quesadilla, or a burrito from Taco Spaceship, and it's an evening well spent! 
Heathen Brewing
Head to Heathen Brewing Feral Public House for promising "progressive ales for the promiscuous palette". Heathen Brewing's "Reindeer Tears"—a barrel aged barley wine—won't land you on the nice list, but we promise no reindeer were harmed during the making of the beer. Or try any number of brews on their long tap list to warm you up this season—the Public House menu is full of beer snacks, pizzas, ruffage, and majestic Mac n Cheese. 
Brothers Cascadia Brewing
The king of complex lagers, Brothers Cascadia Brewing's "Helles Lager," is "as exciting as it is drinkable" and is available year-round. Or try "Cranberry Cinnamon Allegro,"  a tart holiday ale brewed with cranberry and cinnamon. It is an incredibly approachable beer for even those who don't usually enjoy sour beer. It pairs well with a holiday dinner, family, and friends! Head to their new Downtown location, the Brothers Cascadia Evergreen Pub, for even more holiday brews and cheer. 
Loowit Brewing Company
Presenting an all-day hazy IPA, Loowit Brewing's "Iron Rabbit" has full citrus flavors with low bitterness, allowing for finesse in every pint (or can!). Also part of Loowits flagship beers is the "Loowit Lager"—capturing the spirit of the Pacific Northwest, showcasing a gentle and delicious hop profile. And the "Grimlock Rye Porter", Loowits' most award-winning beer ever with notes of roast, chocolate, and coffee with a hint of spice from the rye.
Vice Beer
If you're looking for a unique beer experience, Vice Beer has you covered. Located in East Vancouver, they offer a new beer every week in their 80s and 90s-themed space. You can also check out their taproom, A Little Vice, downtown. This holiday season, make sure to stop by and try their "Moose Mug" beer, inspired by the classic National Lampoon's Christmas Vacation.
Taphouses
Discover the heart of local craft brewing this holiday season at Vancouver's many taphouses and bottle shops! These beloved spots offer an unparalleled selection of brews, perfect for spreading holiday cheer. From robust winter ales to spiced stouts and flavorful IPAs, indulge in a diverse range of handcrafted beers crafted by passionate local brewers. Whether you're searching for a unique gift or simply looking to savor the festive spirit, places like Final Draft, Ben's Bottle Shop, Mav's Taproom, and Ashwood Taps & Trucks are your go-to destinations for exploring and enjoying the finest local holiday brews.
Find more local breweries, taphouses, and holiday brews here!