Bald eagles circling, high above a paved trail. The squeak of sneakers on a basketball court. The heady scent of lilacs in a lush Victorian garden: Accessible activities in Vancouver, WA take many forms.
For our family of four, complete with Jodie, a mama and above-the-knee amputee who uses a prosthetic leg, we needed activities that weren't just family friendly, but that would accommodate her mobility needs. Whether wielding a stroller, using a wheelchair, or being mindful of an injured knee, mobility considerations or impairments are different for everyone, and Vancouver continues to improve its access.
We want to thank Visit Vancouver WA for sponsoring our visit. However, this article reflects our own personal opinions and experiences.
Accessible things to do north of Vancouver, WA
Lilac Days at the Hulda Klager Gardens, Woodland
After initial successes with creating apple hybrids in the early 1900s, Woodland resident Hulda Klager turned her skills and interest to a different plant: lilacs. By the time Klager passed away in 1960, she had developed over 250 varieties of lilac.
Today, her Victorian-style home and four-and-a-half acre grounds give families an opportunity to roam over tended grass and wide paver paths. Our family came near the end of a special springtime event: Held only for a few weeks in April and May every year, Lilac Days allows visitors to experience the bright, fragrant, lush lilac garden.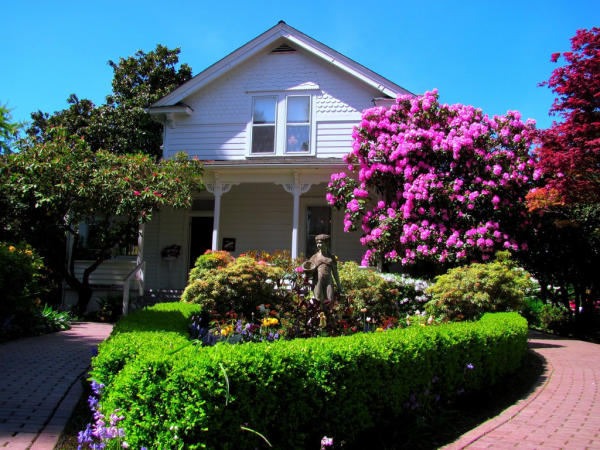 While some areas of the gardens have gravel paths and can be rougher going, we experienced much of the garden from the wide, flat paths laid with paver bricks. (Given that during her later years, Hulda got around to tend her garden in part with the use of a wheelchair, we imagine she would have approved.) The grassy areas were flat and level though. Jodie wove from area to area, augmenting her walking with a trekking pole.
The calm, reflective space brought alive the quiet joy of being among green leaves and brief, bright blossoms. We marveled at large white rhododendron blossoms and cooled off in the shade on a path between parallel stands of rhododendrons. Throughout the gardens, we took time to breathe in the purple, pink, and white bunches of lilacs in their fragrant primes.
Plankhouse and bald eagles: Ridgefield National Wildlife Refuge, Ridgefield
For starters, the Ridgefield National Wildlife Refuge is one of many federal public lands you can visit for free if you hold an  Access Pass. (A ranger at the office's information window also gave us a free replacement hang tag for Jodie's well-worn pass.)
Trails and public lands can be a mixed bag for accessibility, and that holds true for Ridgefield NWR. However, the rangers are an excellent source of advice. They use ongoing training and review of Ridgefield's trails to give each staff member a working knowledge of the area, so they can speak specifically to mobility and give access advice tailored to different visitors.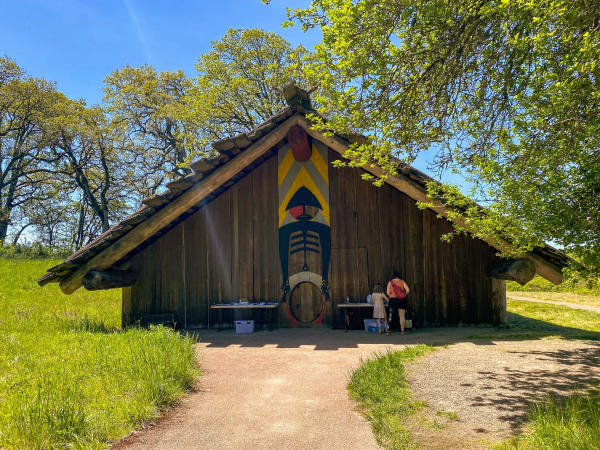 Just outside the offices and main parking lot, a curved, sweeping bridge arcs over not only the railroad tracks but up and over Gee Creek and the edge of Carty Lake. Taking the bridge's slope into account, we paused along the way and looked out over the wetlands and woodlands.
At the foot of the bridge, a wide stretch of gravel path ran about a hundred yards, until the pavement picked up again near a large oak tree at the edge of Lancaster Lake. While Cathlapotle Plankhouse was closed to the public at the time of our visit, we could still examine the art and woodwork of this amazing structure, built in the style of the Cathlapotle and as part of a partnership with the Chinook Indian Nation.
On the lake, geese honked. Above us, two bald eagles circled the treetops. As we returned to the parking lot, another eagle swooped past the office and skimmed over the bridge.
Hometown sports can be mobility friendly
Local baseball and basketball options can accommodate different mobility needs
As much as our family enjoys minor league-type baseball, our spring visit to Vancouver was too early to take in a game with the wood-bat, college-level Ridgefield Raptors summer baseball league.
However, we were in town for a Saturday night home game for the local basketball team, the Vancouver Volcanoes. With reasonably priced tickets, free parking at Clark College's McConnell Sports Complex (just a few minutes from downtown Vancouver), and on-site concessions selling basics like pizza and hot dogs, we settled in not only for a family fun Saturday night, but also our first-ever basketball game.
Jodie followed the kids up the bleacher steps to the top row. If it had been better for her to sit lower down, we easily could have made our way from the gym's double doors to the floor-row seating (though if using a wheelchair, some doorways could be tight). On the opposite side of the court, an elderly man used a wheelchair space in the ADA bleachers to watch the game from his wheeled upright walker.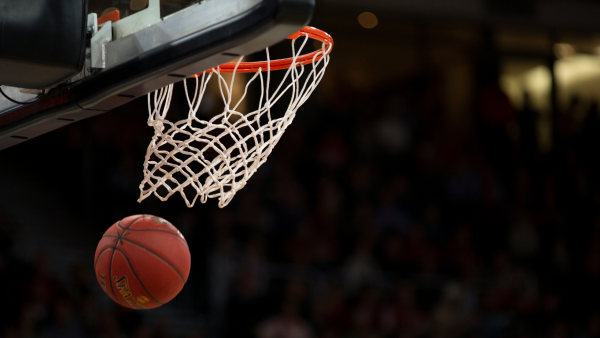 In black and gold "The Couve" jerseys, the Volcanoes gave a gallant, neck-and-neck fight to the visiting Wenatchee Big Horns. While the Big Horns closed out the night ahead 68–67, our daughter cheered for every Volcanoes basket. During halftime, she dashed down to the court to romp and pass balls with other kids.
As play resumed, our daughter returned to her seat. Watching the teams maneuver, and listening to their footwork echo off the gym walls, she turned to us and said, "Basketball is the squeakiest game in the entire universe." But she said it with a big grin and a bigger laugh.
The Volcanoes might not have brought home victory that night, but they gave us a big win of family joy.
Getting around downtown
Hot lunch, cold drinks, and a cool playground: Esther Short Park and the Vancouver Farmers Market
Saturdays and Sundays are Farmers Market days. The 8th & Esther area of downtown becomes a pedestrian zone, where over 100 area crafters, farmers, and food stalls are set up on both sides of the street. The hot, cloudless day put iced lemonade and cold cocoa in high demand.
While we had parked a couple of blocks away, we could have dropped off Jodie at the market's entrance, then caught her up after parking. The flat street had its crowds, but Jodie led us down the rows of stalls, as we picked up lunch and then cut through an empty area between two stalls.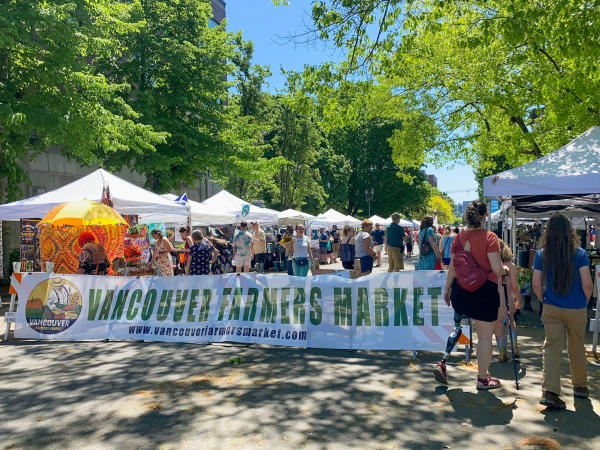 Behind the market, the tall trees and expansive playground in Esther Short Park beckoned. The wide paved paths helped people get through the park, or at least find a good sightline to keep an eye on their romping kids. An old, thick tree shaded us while we nibbled on gyros and pizza. Then our daughter sprang up to hit the playground.
Our next-visit list has another park on it. Inclusive play space builder Harper's Playground is underway on the Chelsea Anderson Memorial Play Station (CHAMPS). Once it opens in 2024, CHAMPS will be the Vancouver area's most accessible park yet.
By the river: Vancouver Landing
It's not everywhere that you can look from one state to another, and a sunny spring afternoon can be a wonderful time to take advantage of the Couve's renovated Waterfront. The wide paths, constructed from concrete and incorporating lots of green space with planter areas and riparian plants, give an easy meander with expansive views of the Waterfront, the Columbia River, and the Oregon riverscape to the south.
Construction on the Waterfront continues, and we chose an area we hadn't checked out previously. East from the Grant Street Pier and just to the right of the Columbia River Interstate Bridge where I-5 connects Oregon to Washington, Vancouver Landing provides both public boat dock access and a plaza where people can relax with the river. Gentle ramps and staircases connect the different levels of the Landing. The design provides access options for people with mobility considerations, helping a broader range of people enjoy the waterfront space.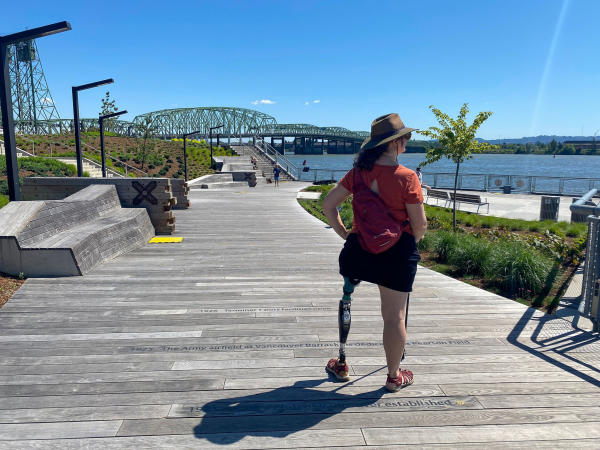 Following the paved path by the riverbank, a couple of hundred yards back to the west, we came to the main part of the Waterfront. Our daughter immediately kicked off her rainbow boots and splashed along the wading pad, while our son wandered up to the pier over the water and watched a river ship cruise west.
Accessible attractions east of Vancouver, WA
Water and wildlife scavenger hunt await: Water Resources Education Center
During the last Ice Age, about 15,000 years ago, the Missoula Floods filled the Columbia River Gorge with about another 400 feet of water. Up to ten trillion gallons an hour ripped along from Montana to what's now Vancouver and Oregon's Willamette Valley. At speeds of up to seventy miles an hour, the floods transformed the gorge and much of Washington and Oregon into the forms we know today.
Water defines the Pacific Northwest. The Vancouver area is home not only to numerous watersheds but to flora and fauna that shape and are shaped by the habitat along the Columbia River. And just east of Vancouver, through auto-opening doors, the single-level education space of the Water Resources Education Center brought to life plants, wildlife, and the history and geology of the Columbia and its watersheds.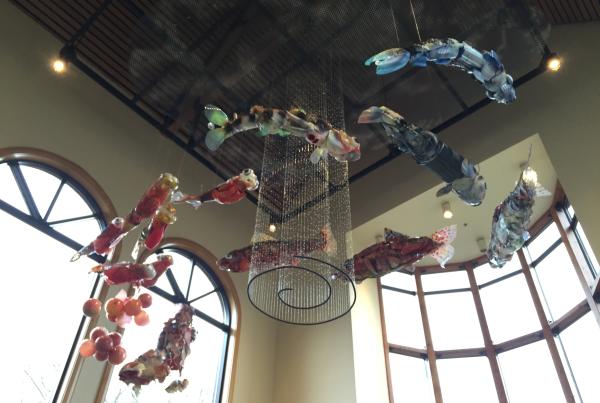 From the lobby, guests of all ages are welcome to pick up a double-sided, dry-erase scavenger hunt sheet and seek out nine activities, marked around the center with a blue, numbered water droplet. Wide spacing between exhibits encourages mobility. Jodie and the kids worked on brain teasers together, then we all tried to jump onto a floor projection of a stream, so our well-placed hops could clean up trash in the water.
Accessible nature trail just outside Vancouver: Evergreen Trail at Columbia Springs
A short drive east of the Water Resources Education Center, a parking lot before the fish hatchery led us to a wooded trail that was only minutes from Vancouver itself. The 100-acre Columbia Springs natural area brings together multiple trails, as well as a historic (and snapshot-worthy) water wheel from 1862.
However, we made our way to the edge of the parking lot, where a sign pointed us to the Evergreen Trail at Columbia Springs. As much as we love getting out of town for a dose of nature, it was wonderful to be able to wander a broad, paved, accessible trail that just happened to be close to Vancouver itself. We could walk under leafy trees with ease. Some of the trail wound alongside the neighboring road, close but well separated.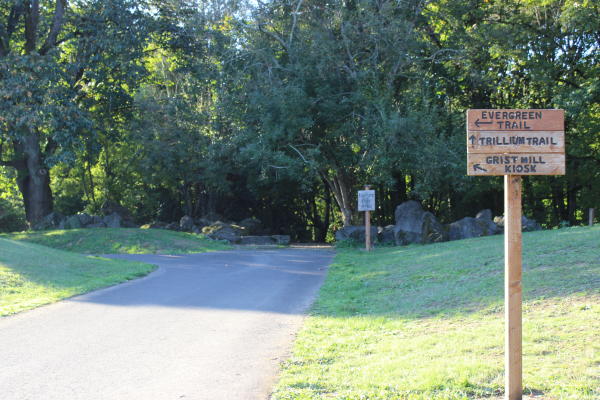 Sometimes you want to be on a trail, but you don't necessarily want to go far from town to do it. Combined with additional trails, the historic water wheel, native plants garden, and other attractions, the Evergreen Trail gave us an easy nature walk. It was a reminder that a mobility-friendly nature experience can be had close to town—and it was a wonderful way to finish out our family's accessible travels in Vancouver, WA.
You can find accessible activities in Vancouver, WA
Accessibility, disability, and mobility impairments mean different things to different people. For our family, especially for Jodie as an amputee who uses a prosthetic leg, Vancouver gave us many activity options that could accommodate Jodie's mobility needs.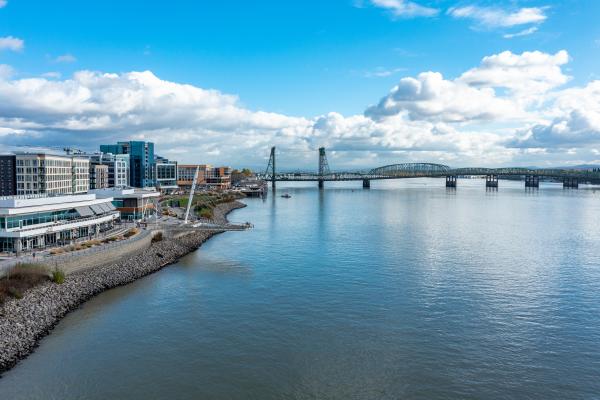 The Vancouver area continues to improve its accessibility. After finishing up at the Evergreen Trail, we picked up the interstate. As we headed away from Vancouver, we knew that when next we returned, there would be even more accessible options for our family, and for others who take mobility impairments into account in their travel plans.