One of Vancouver's most exciting food events is back! For the entire month of October, restaurants offer 3 for $25 and/or $35 menus to local foodies and culinary visitors during Dine the Couve. Choose from traditional offers like a three-course meal comprised of appetizer, entrée, and dessert choices; unique combinations that mix craft drink pairings and a variety of small plates; or menus designed to share. We've rounded up some excellent spots to try something new or visit old favorites throughout the month!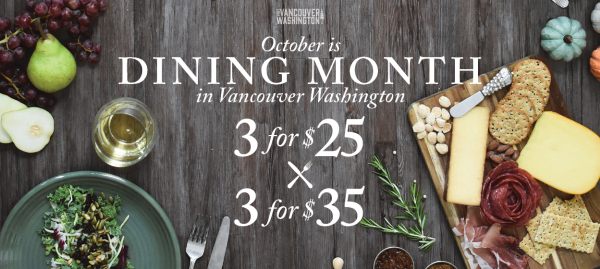 Pro Tip: Make the most of your Dine the Couve experience by downloading the free mobile-friendly Restaurant Pass. By checking in at five different restaurants throughout October, you'll be eligible to win a $100 gift card to the participating restaurant of your choice!
Wine and Dine along the Waterfront
When it comes to wining and dining, the Vancouver Waterfront is a treasure trove of culinary experiences. With stunning views and a vibrant atmosphere, these waterfront establishments offer the perfect backdrop for unforgettable dining during Dine the Couve.
AC Lounge at AC Hotel Vancouver Waterfront: Chic and stylish dining with stunning waterfront views. Choose from a choice of three items, including Meatball Toast, Mushroom Toast, Chicken Kebab, Mushroom Kebab, Garden Focaccia, and Papas Bravas. 
Brian Carter Cellars Tasting Room & Wine Bar: Enjoy views of the Columbia and award-winning wine paired with special options of snacks, boards, and seasonal desserts at the popular Brian Carter Cellars. 
Beaches Restaurant & Bar: For a coastal-inspired dining experience, head to Beaches and savor the three-course option in a relaxed beachy atmosphere by the water.
Grassa: Indulge in hearty Italian-inspired dishes at Grassa, where classic flavors are brought to life in a modern and inviting setting. Don't miss out on their popular Pork belly "Mac" and Cheese with barbecue pork belly, jalapeños, red onion, and cornbread crumbs.
Amavi Cellars & Pepper Bridge Winery: Immerse yourself in a chic atmosphere, offering seated tastings of world-class wines paired with exquisite cheese selections. 
Willamette Valley Vineyards: Experience the magic of Willamette Valley Vineyards right here in Vancouver. Explore their impressive wine selection and enjoy tastings in a picturesque waterfront setting.
Witness Tree Lounge: Discover the Witness Tree Lounge, where you can unwind with a glass of fine wine and delectable bites while taking in the serene waterfront ambiance from above.
The Yard Milkshake Bar: Indulge your sweet tooth at The Yard Milkshake Bar with extraordinary milkshakes and desserts, making it the perfect place to satisfy your cravings after a delightful waterfront meal.
Perfect Craft Pairings
Whether you prefer bold ales, crisp lagers, or unique blends, these establishments have the perfect craft pairings to quench your thirst and elevate your dining experience. Cheers to a month of delightful flavors and craft brews!
Burnt Bridge Cellars: Savor a wine and charcuterie experience for two at Vancouver's Urban Winery, featuring two glasses of their selected wine and a delectable charcuterie plate with gluten-free options to suit your taste.
Taco Spaceship & Fortside Brewing: This dynamic duo once again teams up to showcase delicious fusion creations that perfectly complement craft brews. Stop by and enjoy "beer, tacos from space, and dessert! 
Rally Pizza at Victor 23: Head to Victor 23 Brewing and find foodie favorite Rally Pizza once again, offering a complete list of options that pair perfectly with Victor 23's local brews.
Locust Cider & Brewing: Stop in for a three for $25 special, including a choice of  2 flights of 4 different flavors of cider and an order of tater tots with a choice of 3 sauces.
Loowit Brewing Company: Experience a complete craft beer and dining experience with mouthwatering local brews expertly paired with top-notch meals, all for just $25 for two people.
Heathen Brewing Feral Public House:  Enjoy one of Heathen's "Dine the Cove" Beer flights. That gets you seven 4-ounce pours of Heathen's best adult beverages. Beer, Seltzer, and Cider, OH MY! Choose one "Beer Snack" appetizer and  "Pub Grub" entreé for $35. Check out Heathen Brewing & Kitchen in North Vancouver, which offers the same menu as well! 
Pacific Northwest Best Fish Co.: With its close proximity to 3Peaks Public House, Pacific Northwest Best Fish Co. offers fresh, local wild seafood paired perfectly with hand-crafted beers on tap.
Cool Dining Experiences
For those seeking laid-back yet lively dining experiences during Dine the Couve, these local favorites have you covered:
NOM NOM Restaurant & Grill: Located downtown, indulge in mouthwatering delights such as pork dumpling potstickers, drunken noodles, and delectable desserts.
Slow Fox Chili: Enjoy comfort food and beer for $25, featuring Bootsy's Chili Dog or a Roasted Beet Salad, paired with your choice of a pint of draft beer.
Grays Restaurant & Bar: Savor classic American cuisine with a Pacific Northwest twist through Grays' $35 Dine the Couve menu, offering a choice of 3-course options.  
Pacific House: Enjoy special Dine the Couve menus at both Pacific House locations, indulging top-notch shreables like wings, nachos, and tasty fried broccoli. 
Bessolo Pizzeria: Make it dinner and drinks before a show with a stop at Bessolo Pizzeria and a spooky thrill at Kiggins Theater across the street. 
UnderBar: Discover one-of-a-kind cocktails, starters, and entrees at this hidden gem in Uptown Vancouver.
Firehouse Axes: Pair your drink with a "tocho" and dessert option for a unique dining experience, along with some exciting axe throwing. 
Eateries for Every Palate
These dining destinations offer a wide range of flavors and culinary experiences to satisfy every palate. From classic steakhouse fare to innovative dishes, you're sure to find something to tickle your taste buds during Dine the Couve.
Uptown Barrel Room: Enjoy their Dine the Couve offer of $25 for any appetizer paired with two glasses of wine or two pints from their draft selection.
Hickory Restaurant + Bar: Explore a 3-course menu for $35, featuring options like Caesar or Wedge Salad, Baked Lasagna or Braised Short Ribs, and a choice of Rotating Gelato or Cheesecake with Berry Compote.
Black Angus Steakhouse: Experience a Dine the Couve menu showcasing Three-Cheese Garlic Bread, a 6-ounce Center-Cut Filet Mignon, Red-Skinned Mashed Potatoes, Garlic Butter Broccoli, and the indulgent Big Mountain Fudge Cake.
BevRidge Public: Delight in selections such as Warm, Salted Soft Pretzels, Toasted Cheese Ravioli, BevRidge Smash Burger, or Garden Pesto Linguini.
C'est La Vie: Take in the season with an autumn salad or tomato basil bisque, croque monsieur, or spinach and artichoke tartine, and conclude with a sweet treat or a classic mimosa or wine (gluten-free crepe available for an additional $2).
This is just a sampling of the many options offered during the month of October. Find all the special menus on our Dine the Couve page. Bon appétit!