Picture the shores of the Columbia River, the border between Oregon and Washington, surrounded by beautiful forests, mountains, and diverse wildlife. On the southern bank is Portland, and on the northern bank is Vancouver. 
Some may say it's easier to find similarities than differences between these two cities situated on either side of a bridge less than a mile long. Both have colorful murals, artisan coffee shops, waterfront walking trails, and weekend farmers' markets. But if you only visit one and not the other, you're missing out.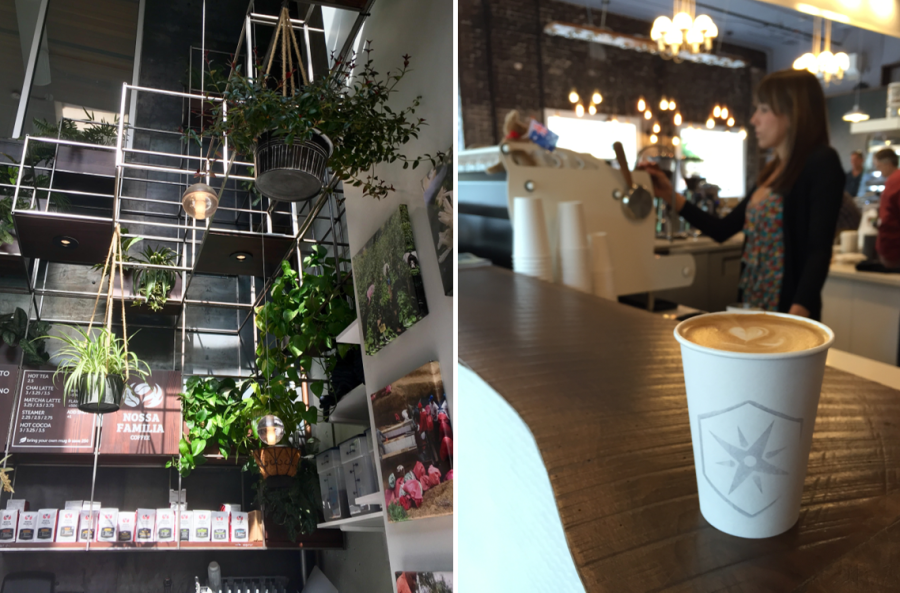 Portland's Nossa Familia & Vancouver's Compass Coffee
Portland has a sprawling downtown with a sparkling skyline and streets filled with the hustle and bustle of city life. Downtown cozies up against the foothills and the Willamette River which runs south to north. At any given point, there are five or more bridges in sight and an endless stream of cars navigating the multiple surrounding freeways including the I-5, 405, 84, and 26. Along the water, Portland offers miles of riverside trails that feel established. Many have walked the trails before you and there's a rich history that can be felt in the infrastructure and the views. Portland's global companies such as Nike, Columbia Sportswear, and Adidas, have attracted global talent which has brought a lot of diversity and growth, and among other silver linings, resulted in a delicious selection of international foods.
Ten miles north, the gateway to Vancouver's downtown is the waterfront featuring public art, bistros, grills, patios, martini bars, and wine tasting rooms, alongside new condos and hotels. Many awe at the Grant Street Pier—jutting 90 feet out over the river and designed by renowned public artist, Larry Kirkland, to evoke the billow of a passing sailboat, lit with concepts by Fisher Marantz Stone, who also illuminated the Washington Monument and the Tribute in Light at New York's World Trade Center. But the true crown jewel of the waterfront is the experience. You can walk from tasting room to tasting room, never feel underdressed in yoga pants, bring your dog, find a table last minute, and always be greeted with a smile. Experiencing Vancouver is like being in on a really cool secret. There's no national prestige that comes from saying you live in Vancouver, Washington, but there is local pride. The people here want to be here. They love the Pacific Northwest and because of them, everything about the local culture feels authentic.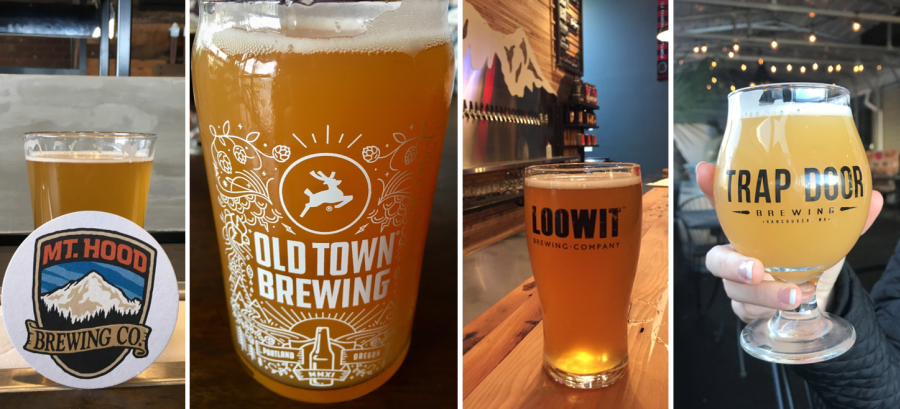 Portland's Mt. Hood Brewing Co. and Old Town Brewing & Vancouver's Loowit Brewing and Trap Door Brewing
The truth is, if you love visiting Portland, chances are you'll love discovering Vancouver. Take the beer scene, for example. Portland has more breweries than any other city, scattered throughout different neighborhoods, including many nationally-recognized labels. In Vancouver, beer fans can design their own walkable tasting tour (collecting stamps on the Brewcouver passport if they choose) to try a variety of local brews, most of which will be brand new to their palate. If it's a wine kind of day, Portland offers closer proximity to nationally-recognized vineyards in the Willamette Valley while Vancouver is an urban wine connoisseur's dream come true, with several tasting rooms within walking distance of downtown and the waterfront. Then there's shopping. Portland is the place to go for big box retailers and artisanal finds, especially since there's no sales tax! But for vintage finds and a smaller, personable experience, owner-operated stores in Vancouver will do the trick. But at the end of the day, both Vancouver and Portland will fill with the smell of spring as cherry blossoms bloom, and share autumn breezes that carry leaves in bright yellows, oranges, and reds.
So, while Vancouverites might escape for a hike to Mount St. Helens, Portlanders might explore the trails of Mount Hood. Vancouverites might rendezvous for a trendy brunch in Camas while Portlanders might meet in Sellwood. Vancouverites might proudly uncork a bottle from the Columbia Valley while Portlanders might look for labels that read, "Willamette." But despite all their parallels, grabbing a cup of coffee and taking a stroll downtown will feel vastly different in each. And you should experience the beauty of both.