When it comes to navigating an alcohol-free outing, sometimes the hardest part can be figuring out where to go to enjoy something beyond a soda or juice, especially if there aren't clear N/A menus. We've taken the stress out of a zero-proof adventure and created an entire bar crawl of mocktails, N/A beer, and plenty of delicious food along the way. Grab your crew, head to the Couve, and get ready for some good clean fun!
NOTE: Some places can be popular during certain days and times; always check ahead if you need a reservation or have a backup option if one place is busy. If you're under the age of 21, please check with individual establishments on age restrictions. The crawl is laid out to begin at the waterfront and make your way through downtown and end in Uptown Village. Choose one path to follow throughout, or mix it up with every stop. Having a hard time deciding between certain spots? Flip a coin or hit them both—all the places listed are worth the visit!
Rustic PNW Route
Do you love plants? Does your heart skip a beat when you see exposed wood? Does the sound of vinyl pops and scratches spark joy? Do you like regionally inspired menus and maybe even the occasional pinball machine? Stick with the

 spots.
Tropical Escape Route
Do you find yourself longing for tropical, faraway beaches? Do you love spicy flavors balanced with sweet, fruity drinks? Does the term "wanderlust" cause your heart to flutter? Do you live for the perfect photo opportunity? Stick with the 

spots.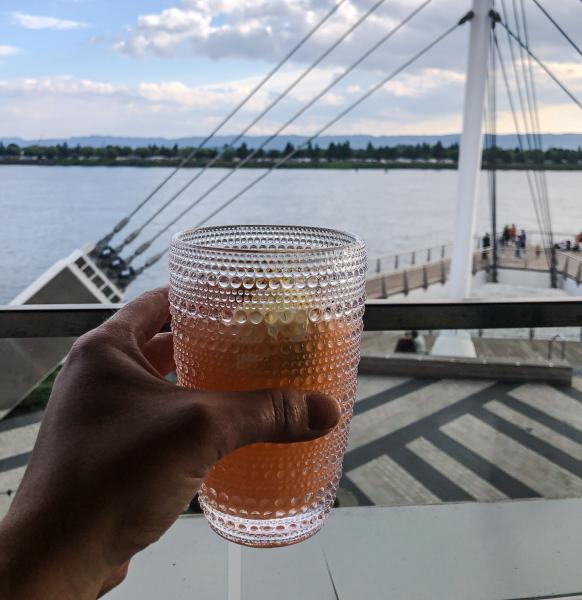 Stop one

If you're hungry and want to have a meal before your day of guilt-free indulgence, head to WildFin. Find PNW-inspired fare, Lagunitas IPNA, and a Refreshers menu featuring four drinks, such as a Marionberry Mule or a Gardeners Gimlet made with Seedlip 108 non-alcoholic spirit.

 If you're feeling peckish and looking for a more upscale start to your crawl, head upstairs to DOSALAS (pictured). Find small plates inspired by Latin cuisine and a mocktail menu that features three handcrafted beverages, including a Lavender Island and Raspberry Kamikaze. Be sure to check out their patio with front row views to the Grant Street Pier.
Stop two

After a short stroll along the Waterfront (be sure to snag a cute photo along the Grant Street Pier) find yourself in the sprawling Vancouver location of the ever-popular Seattle mainstay 13 Coins. Find Beck's N/A beer, three N/A cocktails, and a seasonal list of low-proof cocktails if anyone in your group is looking for a way to imbibe a bit during your outing. Try the CosNOpolitan or the Spiced Hibiscus Margarita, both made with Seedlip NA spirits.

Want to take your crawl to another level? Head to the top floor of the Hotel Indigo and find yourself immersed in a world of velvet and sweeping rooftop views of the Columbia River at Witness Tree Lounge. Sip two expertly crafted zero-proof cocktails and nosh smaller bites to elevate your experience. Keep an eye out for the rooftop patio opening later this year.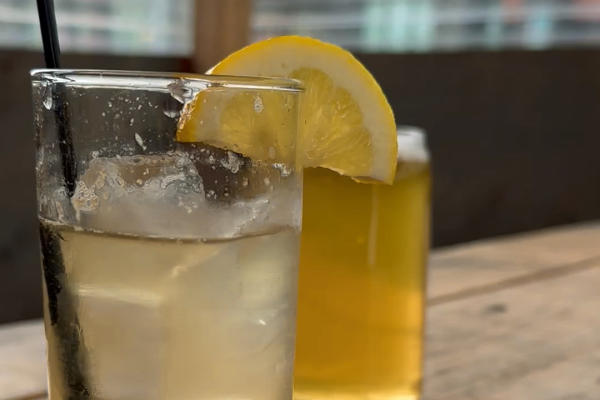 Stop three

Make your way over to Washington and 6th St. to find yourself in one of the most popular Vancouver restaurants Little Conejo. Belly up to the bar or head out to their parklet patio and enjoy a virgin margarita or a seasonal mocktail with plenty of people watching to keep you entertained. If you haven't filled your belly with snacks at the previous locations, we highly recommend snagging a taco or some chips and house-made salsa while you're here! Note: All their margaritas can be made spirit-free upon request.

Looking for vinyl tunes, handcrafted beverages, and a little more low-key vibe? Head down Washington one block and find yourself at the Grocery Cocktail & Social (pictured). Find two rotating zero-proof cocktails "Formerly Known As" seasonal punch and "Not Far Behind" seasonal shrub, as well as a N/A "Self Care Beer." Find a mood-lit table in the upstairs lounge or a patio seat.
Optional side quest
Sometimes mixing things up can be fun and why not do it with a wellness shot? Head to recently opened Bula Kava

for one of their three wellness shots like a turmeric and black pepper or pop into Mighty Bowl

for one of their three shots, such as the bluegreen algae and lemon shot. Cheers!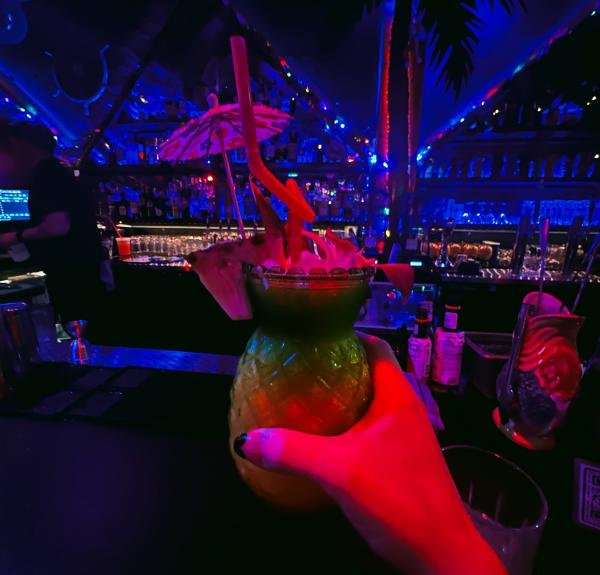 Stop four

A short stroll up Main Street leads you to the PNW inspired Pacific House. Pull up a bar seat, sit to the patio, or find a table near a TV to catch one of several sports games they always have playing. Grab one of their three new mocktail specials or lean into the sports bar vibe and enjoy a Clausthaler N/A beer or a Crux NoMo IPA.

One block up on Evergreen, get the Aloha vibes rolling in downtown's first tiki bar The Coral Club (pictured)! Try their Fauxito for a minty refreshment, go all out on their zero-proof Pina Colada, or ask your bartender which of their mocktails they'd recommend. Sit at the bar to watch all the handcrafted beverages being made and get ready for lots of firey drinks throughout the night, atmospheric lighting, and floor-to-ceiling décor, all in an intimate setting. Note: We highly recommend reservations.
Stop five   

Head about a half mile up Main Street and find Vancouver's newest tiki bar Wahi Hana. From the colorful mural outside to the immaculate décor and regular volcano "eruptions" inside, you'll feel like you've been transported to the islands. Find six delicious tropical mocktails and five tempting dessert options (hello, Dole Whip Float!) to end the night on a sweet note.

Close out the night with a slice of pizza, some pinball, and an N/A nightcap at Thirsty Sasquatch. Find three mocktails, multiple CBD and zero-proof canned beverages, and larger than life sasquatch murals. Stay inside to enjoy the ambiance and play some pinball, or head out to the back patio and enjoy the evening air. Either way, be sure to grab a supersized slice of their mouth-watering pizza or split a whole pie with the table.
Cheers!