Visit Vancouver Washington
H1 Exhibition presented by May Awning & Patio
The fastest race boats in the world will return to Vancouver, WA for the first time in nearly 43 years on Friday, May 20.
Spectators are invited to watch as a small fleet of H1 Unlimited Hydroplanes take to the Columbia River to run an exhibition test before their 2022 season.
Thursday, May 19th: 
Unlimited Hydroplane Boat Showcase Public Viewing
Come see four Unlimited Hydroplanes up close and talk to teams and drivers. Merchandise sales and autographs will be available, as well as more information about the H1 Racing Series and 2022 H1 Unlimited schedule. Special parking will be available from 9:30 a.m. to 1:30 p.m. for viewing the hydroplanes at the Block 24 parking lot, south of the Hilton Vancouver. Enter at 4th St off Columbia Way. 
Location: Phil Arnold Way, Downtown Vancouver, 9:30 a.m. to 1:30 p.m.
Participating teams:
U8 – Strong Racing – Sponsor: Visit Tri-Cities. Driver: J. Michael Kelly

U11 – Unlimited Racing Group – Sponsor: May Awning and Patio. Driver: Jamie Nilsen

U40 – Bucket List Racing - Sponsor: Beacon Plumbing. Driver: Dave Villwock

U-91 – Miss Madison Racing – Sponsor: Goodman Real Estate. Driver: Jeff Bernard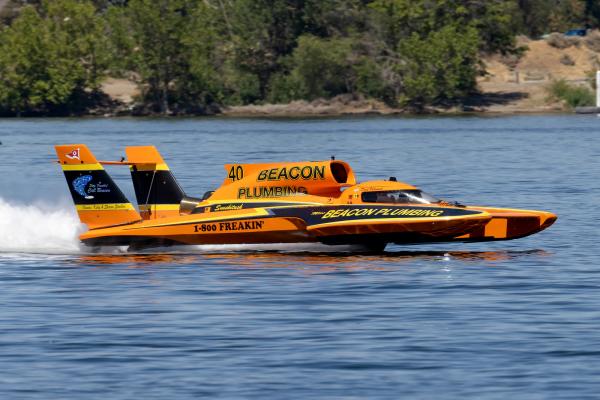 Friday's event will be live streamed on H1 Unlimited's YouTube page.
Friday, May 20: 
Unlimited hydroplane exhibition on the Columbia River
Watch as the Unlimited hydroplanes take the water one at a time for test runs on the Columbia River. Special parking will be available in fields by the entrance to the Old Apple Tree across from Waterfront Park on SW Columbia Way as weather permits. Parking is also available at Waterfront Park by Who Song & Larry's. Please do not park in business and residence parking or restaurant parking unless you are eating there. ​
When: 9:00 a.m. to 3:30 p.m.
Where: The best place to view the hydroplanes on the water is along the Waterfront Renaissance Trail between Waterfront Park (east of Who Song & Larry's) and Beaches and McMenamins Restaurants. Beaches will be open at 9:30 a.m. that day with the addition of some breakfast items. They will be reserving all the patio tables & window tables with 90-minute time limits. Guests will still be able to experience the trial runs in that timeframe, while allowing others to enjoy the show as well.        
Mariner Information: The Coast Guard plans to establish a safety zone around the exhibition, for the safety of the maritime public, between 8:30 a.m. to 3:30 p.m. No vessels will be permitted to anchor or loiter within the zone and all vessels desiring to transit the zone must contact the Coast Guard on Channel 16 to request permission. The zone will extend between Hayden Island and the Vancouver side of the Columbia River, starting at approximately 700 yards east of the I-5 bridge and extending to the east end of Hayden Island.
Read the Coast Guard's notice to mariners here.