Summer is made for finding the perfect swimming hole, followed by a sweet treat to round out the adventure. Explore these swimmable bodies of water* around Vancouver for a refreshing dip.
Moulton Falls
A popular summer hangout, Moulton Falls offers deep pools and rock cliffs to safely jump from. Surrounded by clear waterfalls and trees, it's truly an escape from the heat.
Post-swim treat: Cider Flight at Moulton Falls Winery (while the kids enjoy a wood-fired pizza). Note: No children under 14 allowed after 6 p.m.; only open on weekends.
Battle Ground Lake
The crystal-clear Battle Ground Lake was formed by volcanic upliftings and is a prime location for swimming. Make it an overnight excursion at one of its 50 campsites.
Post-swim treat: Affogato or an iced latte at Main St. Café (while the kids enjoy sweet or savory crepes)
Dig your toes in the sand, with a great view of Mt. Hood on the Columbia River at Wintler Park. Bring a floatie, but stay close to the shore as the current can be strong.
Post-swim treat: House-spun soft serve ice cream from Treat Vancouver
Lacamas Lake Park
Calm water surrounded by trees and trails is what makes Lacamas Lake the place to be when the sun is out. Rent a paddleboard or swim with the fish!
Post-swim treat: K&M Drive-In for classic milkshakes or specialties, like Mixed Berry and S'mores shakes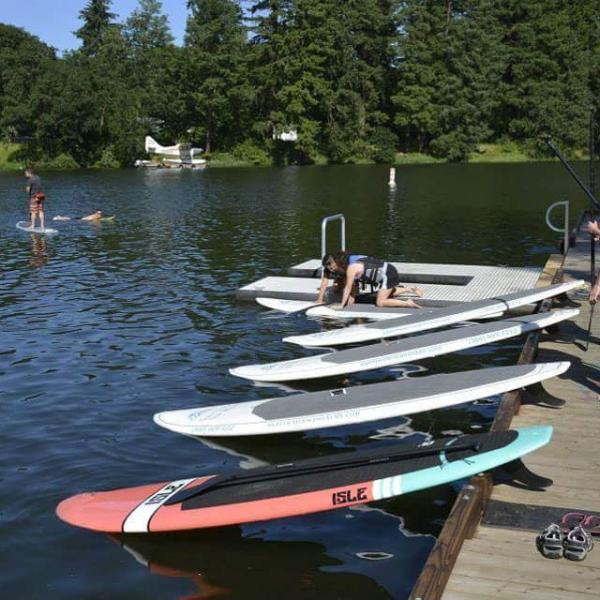 Cottonwood Beach
One of the best beaches in the area, Captain William Clark Regional Park at Cottonwood Beach is an escape from the city with historical relevance. Frequented by pups and swimmers, it's a must-go.
Post-swim treat: Follow the north shore of the Columbia River all the way back to Vancouver, where you'll find soft-serve ice cream cones at Wildfin's walk-up window, What A Catch Fishbar.
Marshall Center
Prefer to stay out of the sun rays? The Marshall Center's aquatic facility has public swim times, as well as several lanes for lap swimming and exercise classes. A water slide will get the adrenaline up for some fun indoors.
Post-swim treat: Ice Cream Renaissance's creative constructions, like the Not So Leaning Tower of Pisa or Banana Bossa Nova
*Check the water conditions and possible park closures before you go, be aware that most swimming areas do not have lifeguards on duty. Keep in mind the river waters will still be very cold and possibly dangerous. Be safe and use good judgment!