Restaurants and wineries have been nailing it during quarantine with take-out options, delivery, and curbside pick-up to delight customers while keeping them safe. We'll continue to update our post of all local meal options and outdoor dining spots, but if you need a more refined recommendation, here is a narrowed-down list of pizza and wine pairings to spruce up your "stay home" date night, socially-distanced Zoom call with the girls, or just to treat yourself.
Downtown Denizens: Nonavo Pizza & SuLei Cellars
From day one of the stay-home order, Nonavo Pizza's owner "Joey C. from the place to be" has been addressing his "pizza people" in weekly Instagram videos with thoughts of the day or inspirational messages to keep on going. Admittedly with some strong language, Joey backs up his saucy New Jersey attitude by continually supporting hungry kids, frontline workers, and service industry folks. Pair your pizza pie with a Roller Girl Red or Dry Rosé from Walla Walla-native SuLei Cellars' downtown Vancouver outpost.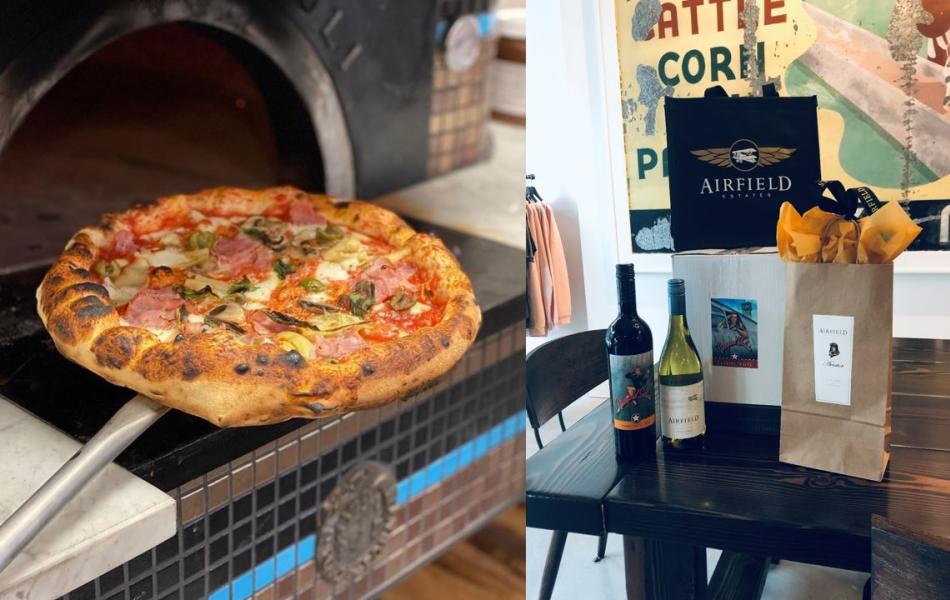 New & Noteworthy: Pizzeria La Sorrentina & Airfield Estates
The name Pizzeria La Sorrentina is familiar, but their new digs in east Vancouver is a fresh face from the bright blue truck where they earned national recognition on Buzzfeed's analysis of top Yelp reviews. Open for the first time as a brick-and-mortar, cut them some slack as they figure out the intricacies of takeout during COVID-19—rest assured the Neapolitan-style pies cooked in an oven straight from the ashes of Mt. Vesuvius will be top-notch quality from the first to the last bite. New to the waterfront, Airfield Estates is open daily for curbside pick-up and offers free shipping with a six-plus bottle purchase.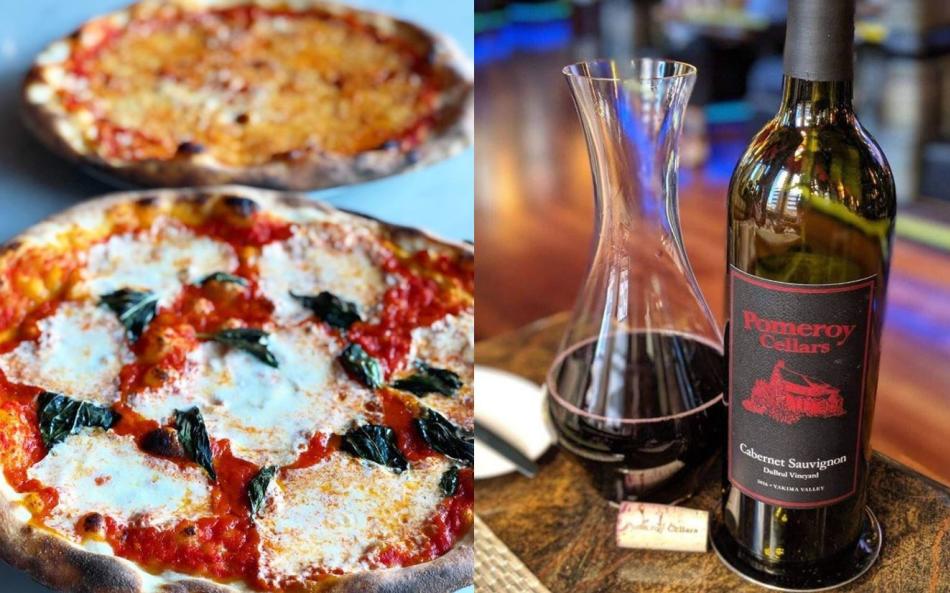 Front Door Delivery: Rally Pizza & Pomeroy Cellars
With a new deal or fun pizza-related holiday seemingly every week, Rally Pizza is very convincing when trying to decide if pizza is the way to go…maybe for the third time this week. Between $10 happy hour pizzas on Mondays—always using fresh ingredients from local farms—and mouthwatering desserts and roasted veggies to add to your order, it's hard to pass up the DoorDash delivery. Pomeroy Cellars is also working hard up in Yacolt to get their delicious wines shipped straight to you.
One-stop-shop: Moulton Falls Winery & La Uva Fortuna Farms
Moulton Falls Winery is still putting out pies from their rustic patio pizza oven on the outskirts of Clark County. Grab a bottle of wine or some homemade cider while you are at it, perhaps after completing a nearby hike. In addition to its own wood-fired pizza, wine, and cider options, La Uva Fortuna Farms (formally known as—and still serving wine from—Rusty Grape Vineyards) also has family-sized meals and an Italian Market for all your dinner needs. If you decide to go the pizza route, get it take-and-bake-style or cooked just to the right temp. Note: Moulton Falls Winery just announced they will be closing until February 12. Plan accordingly!
This is merely a sampling of pizza places and wineries doing a great job at serving our community. For a complete list of restaurants, breweries, wineries, and coffee shops offering take-out and delivery in Vancouver, check out our previous blog post—and let us know your favorite local pizza and wine combo in the comments.