It's time to say goodbye to 2019 and wave hello to 2020. Another decade has come and gone—here is where to ring in the New Year in Vancouver USA.
CELEBRATE
"Roaring 20s" is the theme of choice this year (understandably)—choose between three Gatsby-esque parties around the city on Dec. 31 and into the wee morning hours of Jan. 1. Ilani Casino's concert venues will roar with live entertainment and special buffets at Rose & Thorn and Line & Lure. Warehouse '23 continues its annual tradition with a similar entertainment and food lineup—plus, stay at Homewood Suites by Hilton a mile down the road for a free shuttle, free parking, and free breakfast in the morning. In full Prohibition Era-style, UnderBar (Vancouver's only underground speakeasy) will be right on theme. And your $5 cover charge will be waived if you are wearing 20s attire.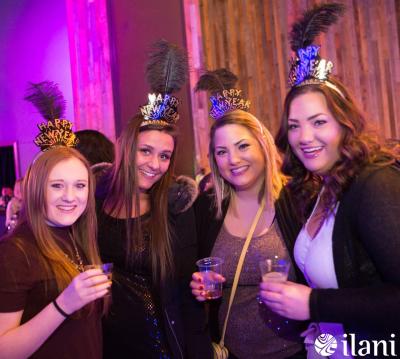 If long-time local bars (…okay, we'll say it, dive bars!) are more your thing, check out Donnell's, 99 Saloon, Back Alley Bar & Grill, and 3 Monkeys Bar & Grill for friendly fun past midnight. Watch the Hellcats play at Billy Blues Bar & Grill or get your dance on at Vancouver's downtown nightclub Six West Lounge. Representing the brewery scene, Brothers Cascadia is hosting an East Coast NYE 90s Hits Dance Party from 6 to 9 p.m. and Thirsty Sasquatch is celebrating with drink specials and a free toast.
While perhaps slightly less traditional, there are other ways to ring in the New Year that don't involve champagne and sequin dresses. Rally Pizza is hanging on to its Italian roots and celebrating with cioppino, handmade cannoli sundaes, and Italian wines from 5 to 9 p.m. Tandem Hall's annual black tie event gives guests the opportunity to give back to a charitable cause, and Hot Yoga NorthWest takes time to reflect on the year with a special Yin Yoga class from 8 to 9:30 p.m. And finally, if you anticipate losing the NYE battle of the bedtime with the kids, bring them to Big Al's for three hours of bowling sure to make them sleepy, or Naydenov's Gymnastics Fun Center for an all-nighter of trampoline jumping and zip lining (but really, it goes from 8 p.m. until 8 a.m. the next morning).
STAY
Experience the whole package at downtown's Hilton Hotel. The New Year's Eve special comes with $100 at Grays Restaurant (located on the ground floor of the hotel), free appetizers and a champagne toast at midnight. Enjoy live music from a solo guitarist before riding the elevator up to your comfy room for the night. Sleep in with late checkout (1 p.m.) and complimentary self-parking.
The Pacific Northwest-style Heathman Lodge has its Winter Special happening now, with 15% off guestrooms when you book and stay between now until the end of February. This hotel brings a new meaning to the word 'cozy' with a grand fireplace and Pendleton blankets adorning the staircase railings.
For all events and hotel packages, we suggest making reservations in advance, finding out if the event requires tickets, and doing additional research to ensure your spot.