Vancouver, WA has a newer queer scene that's grown significantly in a short period of time. Our first official Pride event was relatively recent, hosted in the summer of 1994 by what is now known as Vancouver USA Pride. With groups like Summer of Pride Clark County, Clark County PRIDE, and Ridgefield Pride, you can clearly see where the LGBTQIA+ community has blossomed in our region and there are more safe spaces than ever to welcome the local (or visiting!) queer communities.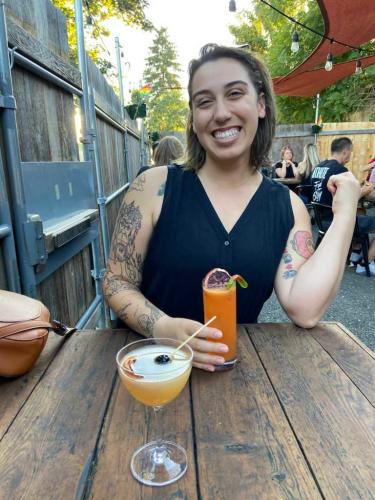 A cute little coffee house with a big outdoor space, Latte Da is a remarkably welcoming spot. Food is served throughout the day so you can visit as a breakfast spot, or come later in the evening for wine and small plates around the fire pit outside. If your timing is right, you might be able to make it for one of their writing open mic nights and hear readings from local poets and prose writers. Currently they host a monthly event with a dedicated focus on queer and BIPOC writers in the area.
If you don't go to at least one taproom, did you even visit the Pacific Northwest? The Thirsty Sasquatch has always been a popular spot to grab a beer downtown, but their recent expansion added a pizza restaurant and arcade games that complement their already trendy space. In addition to just being very cool, this is a go-to spot for me personally because of their inclusivity. The Pride flags out front signal that I can confidently walk in with a partner, the vegan pizza options accommodate different dietary needs, and their non-alcoholic beers and cocktails make it a comfortable place to visit for sober folks.
Dandelion Tea House and Apothecary is a new business to Vancouver, but instantly precious to the community. Their menu features creative lattes that change with the seasons, and there are plenty of options for those who want a more traditional cup of tea, both herbal or with a caffeine boost. A small shopping section features locally made skin products, loose leaf tea, and some esoteric offerings that are fun to sort through. The rest of the teahouse is a warm and inviting place to relax, with bright colors throughout and local artwork hanging on the walls, to admire or purchase. 
It's hard for me not to wax nostalgic on the Kiggins Theatre, since it's been a major fixture in my life for the 20-ish years I've lived in Clark County. For a traditional queer experience, you can swing by on the 4th Saturday of the month and attend a Rocky Horror Picture Show event featuring the Denton Delinquents. That said, they host a variety of events that can appeal to virtually any interest. Eager to learn more about the Pacific Northwest? Keep an eye out for History on Tap or Science on Tap events for a fun lecture on the area. Love classic film noir? Kiggins will regularly host Noir Nights so you can get your fix. You can also swing by for one of their new film screenings, and make sure you grab that tasty popcorn on your way in. 
More LGBTQIA+ Friendly Businesses:
UnderBar                                                                                                                                                                                                                      Brickhouse Bar & Grill
Locust Cider
Mon Ami
Bleu Door Bakery
Lava Java
3 Monkeys Bar and Grill
I Like Comics
Kindred Homestead Supply
Urban Eccentric
Trap Door Brewing
Vault 31
The Grocery Cocktail & Social
Donnell's Bar
Syrup Trap
Sugar's BBQ
Even with those honorable mentions, this list certainly isn't exhaustive. Vancouver and Clark County are becoming more accepting of the LGBTQIA+ community, and it's exciting and reassuring to see the progress being made.