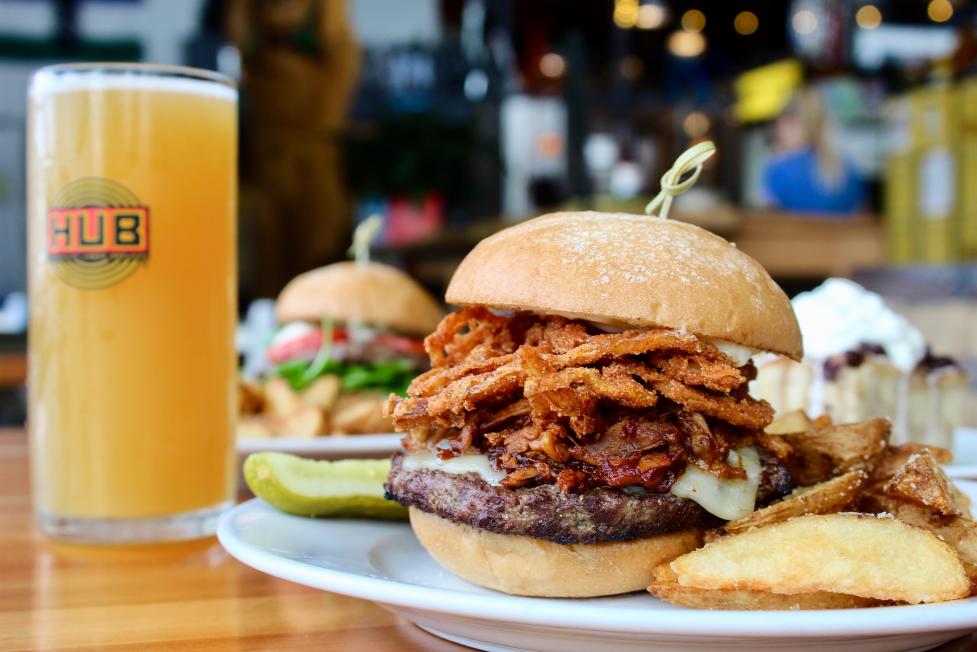 This October, 36 restaurants participate in Dine the Couve with 3 for $23 menus
VANCOUVER, Wash. – During the entire month of October, restaurants from across the city will offer 3 for $23 menus to local foodies and culinary tourists for Dine the Couve. With a dozen new participating restaurants on board, there are more local eateries than ever before serving up specials all month long. The growing number reflects the rapidly expanding food scene in Vancouver USA.
"The restaurants brought some really creative menus forward for this year's Dine the Couve," said Michelle McKenzie, Director of Marketing at Visit Vancouver USA. "It's an exciting time to eat in Vancouver and we encourage everyone to come into town, try a new restaurant or check out the special menu at your favorite spot."
Restaurants can opt for the traditional route and offer a three-course meal comprised of appetizer, entrée, and dessert choices, or take a more unique approach by mixing in craft drink pairings, a variety of small plates, or menus designed to share.
This year, Vinnie's Pizza delights with Italian comfort food and C'est La Vie brings French flair—joining cosmopolitan Dine the Couve veterans NOM NOM and Little Conejo. Maryhill Winery, Twigs Bistro & Martini Bar, and Barlows Public House join Beaches Restaurant and Warehouse '23 offering up waterfront views to accompany their 3 for $23 menus. Hopworks Urban Brewery, Ghost Runners Brewery, and Fortside Brewing (the latter two returning from the first year) are fresh additions to the list of eight participating breweries.
Menus are posted online at VisitVancouverUSA.com/DineTheCouve. Use #DineTheCouve to share dining experiences on Facebook, Twitter, and Instagram.
Participating restaurants include:
| | | |
| --- | --- | --- |
| Barlow's Public House | Hudson's Bar & Grill | Rally Pizza |
| Beaches Restaurant & Bar | Koi Pond Cellars | Renegades Bar & Grill |
| C'est La Vie | La Bottega | Say Ciao! Tap Room & Eatery |
| Doomsday Brewing Safe House | Little Conejo | Sixth Avenue Bistro |
| Eatery at the Grant House | Little Italy's Trattoria | Tommy O's Pacific Rim Bistro |
| Elements Restaurant | Loowit Brewing | Trusty Brewing |
| Farrar's Bistro | Maryhill Winery | Twigs Bistro & Martini Bar |
| Fortside Brewing | The Mighty Bowl | UnderBar |
| Ghost Running Brewery | Mt. Tabor Brewing — The Pub | Uptown Barrel Room |
| Grays Restaurant | Niche Wine Bar | Vancouver Pizza Co. |
| The Grocery Cocktail & Social | Nom Nom Restaurant & Bar | Vinnie's Pizza |
| Hopworks Urban Brewery | Nonavo Pizza | Warehouse '23 |
About Visit Vancouver USA
Visit Vancouver USA is the official destination marketing organization for Vancouver USA and the surrounding areas. The organization also markets the region as a venue for sports events through the Vancouver USA Sports brand. Visit Vancouver USA's mission is to increase visitor spending in Vancouver and Clark County through competitively marketing the area as a destination for meetings, conventions, and group and leisure travelers. For more information call 360-750-1553, or visit www.VisitVancouverUSA.com.
# # #