Driving up to the front of Hotel Indigo on the Vancouver Waterfront, the valet servicemen were at our door before I could put the car in park⁠—that's when I knew my sister and I were about to have a night away to remember. Our less than 24-hour itinerary consisted of wine tasting, dinner and breakfast reservations, and a spa treatment⁠—all within one building: the Kirkland Tower. We may not have gotten our steps in, but the one-stop shop to a relaxing staycation was just what the doctor ordered. Come along with us and be inspired to book your own getaway to the Vancouver Waterfront!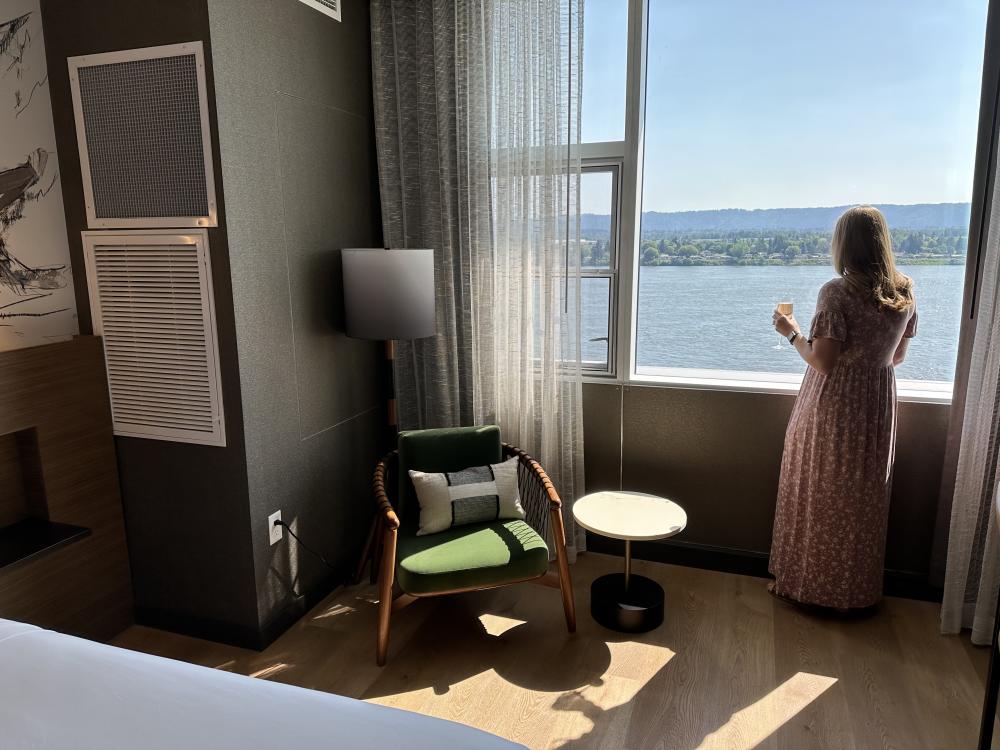 4 p.m. – Check in at Hotel Indigo
Greeted with champagne and a waterfront view, our 8th floor room overlooked the sprawling Waterfront Park and down to the Grant Street Pier. As evening approached, the sidewalks were busy with people of all kinds enjoying the outdoors and looking for their dinner spot. While completely luxurious, Hotel Indigo is approachable with touches of the Pacific Northwest in each space. From the mountainous painting above the bed with hues of blue and gray, to the naming of the Witness Tree Lounge after the historic cottonwood that stood as a witness to a meeting of local Native American chiefs in the early 1800s, the hotel fills a gap that Vancouver didn't know it had.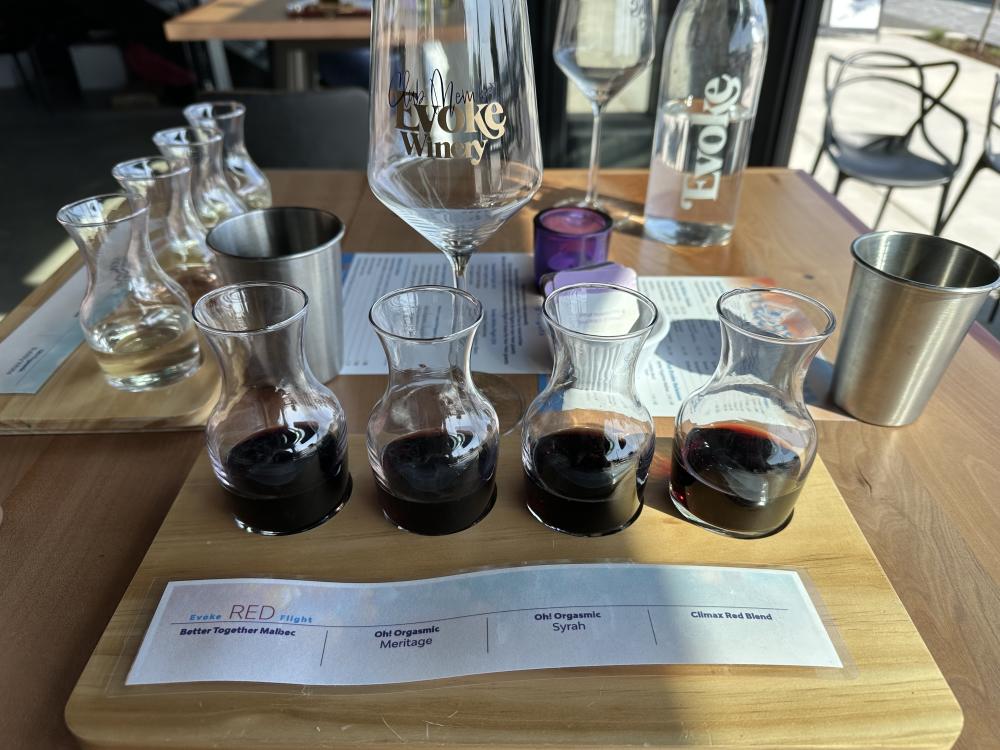 4:30 p.m. – Wine tasting at Evoke Winery
Forget about yesterday's woes and tap into your playful side with suggestively quippy wine names at Evoke Winery. Try a flight of reds or whites to sip alongside complimentary "fish and chips" (goldfish and chocolate chips) to snack on. While all the wines were delicious, we walked away with a bottle of Partners in Wine Sauvignon Blanc as it was easy-drinking and refreshing on a warm evening. Take a seat at the bar or find a table along the open-air retractable doors for prime people watching.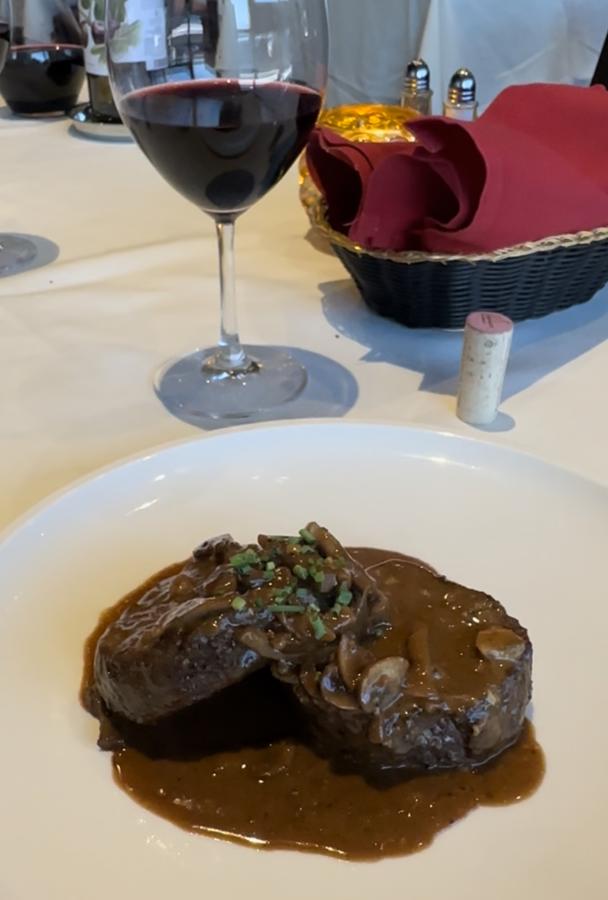 6 p.m. – Dinner at El Gaucho
The unmatched service at the hotel filtered over into our dining experience at El Gaucho⁠—and that's exactly what it was: an experience. From the special small gestures like adding our names to the top of the menu, to the tableside Caesar Salad and Steak Diane with mushrooms, brandy, veal demi, and a Dijon cream sauce, we felt like mini celebrities as we were brought wine pairings to complement our food choices and tasted the best steak we've ever had. We chatted with the waiter about his 20-plus years with El Gaucho and how he'd served countless sports stars at the Portland location like Damian Lillard, Mia Hamm, and Lance Armstrong. You can tell when employees feel valued, and they give that feeling right back to their customers with unrivaled hospitality. Pro tip: Don't skip the Dungeness Crab Cakes for a starter.

Photo by Fire & Vine Hospitality
8:15 p.m. – Night Cap at Witness Tree Lounge
We made it to the 8th floor Witness Tree Lounge just in time to watch the sunset from the nearly-rooftop patio. We had consumed enough spirits at this point in the evening, so we opted for a mocktail option with tastes of tarragon and elderflower from their highly revered zero proof list. It didn't lack flavor or fanciness in the slightest. While we wished we had room for a savory pork belly slider or a sweet trio of macarons, we were already planning our return to try some small plates and cocktails (some flamed tableside) another night. Even in the winter, we could see ourselves perched up on the teal velvety couches enjoying the view.
NEXT DAY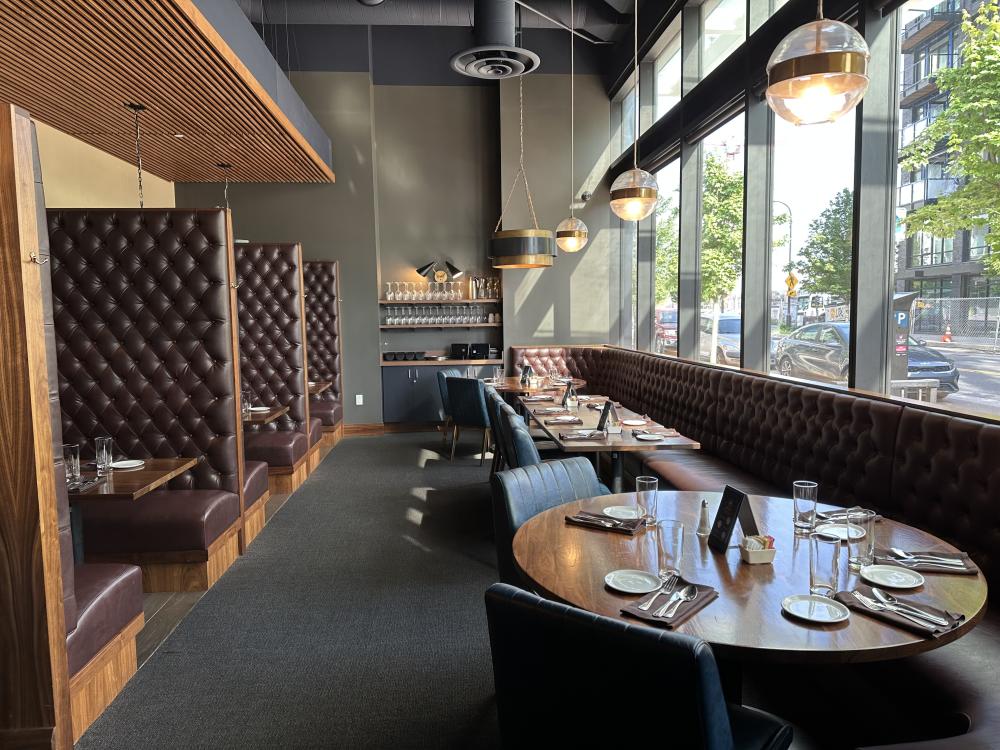 8:30 a.m. – Breakfast at 13 Coins
Known for their Eggs Benedict with house made hollandaise sauce and specialty gravy made with bacon instead of sausage, 13 Coins doesn't mess around with large portion sizes and lots to choose from⁠—in fact, they offer their entire menu of breakfast, lunch, and dinner all day long. I went with a simple eggs and bacon dish with a hefty bed of hashbrowns, while my sister went for the veggie omelet. The orange juice tasted freshly squeezed and the steaming cup of coffee really hit the spot. Choose to sit at the bar to watch the chefs hard at work, or opt for a cozy booth with nearly floor-to-ceiling cushion backs.
10 a.m. – Facials at Amélie Spa
As I lay on the table under a plush white comforter with soft music playing and my face, neck, arms, and hands massaged, I couldn't help but think this facial should be on every new mom's (or dad's!) list of must-dos. Complete with dermaplaning, manual exfoliation, and deep hydrating peel, I left feeling rejuvenated and refreshed for the day ahead. It was the perfect endcap to an unforgettable night away. (Find more skin care services, laser treatments, and injectables on Amélie's website.)
Feeling inspired to experience a similar staycation or weekend getaway? Visit Hotel Indigo's website to book your stay, start making those reservations, and check out our website to learn about even more things to do nearby (like exploring downtown Vancouver).