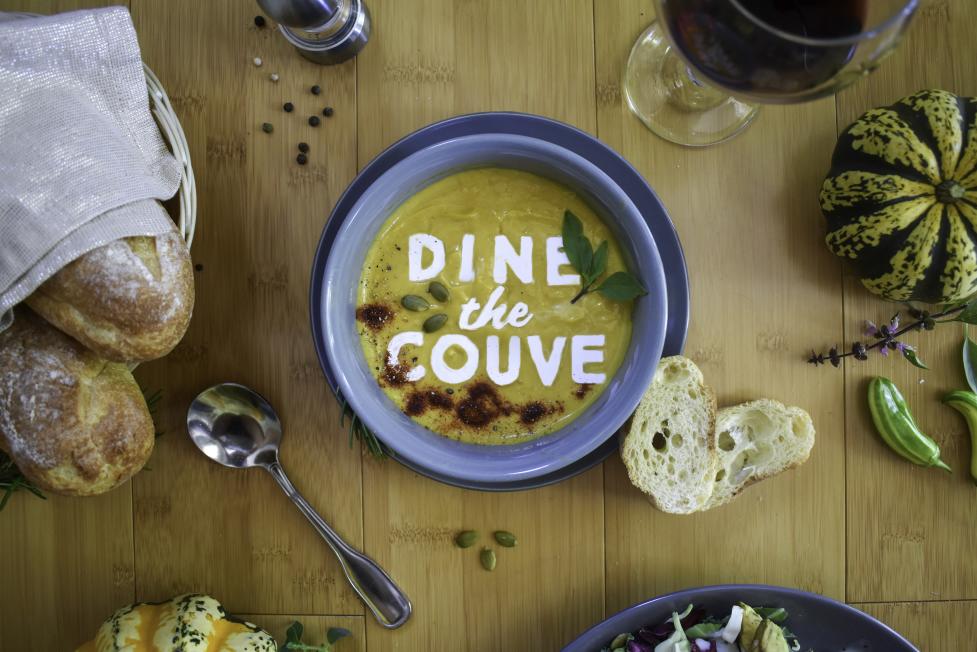 Dine the Couve returns for fifth year in October
Dining month promotion encourages support of local restaurants with 3 for $25 menus
VANCOUVER, Wash. – It's no secret that restaurants have struggled this year with restrictions due to COVID-19, and more recently, air quality concerns from the regional wildfires. This October, 34 restaurants from across Clark County will offer 3 for $25 menus all month long, as Vancouver USA's annual dining month promotion encourages locals and visitors alike to support eateries and breweries.
"While we were planning to hold dining month since early 2020, we're really hoping to see Dine the Couve help restaurants find a creative angle to bring back some of their past clientele and attract new customers to aid during these exceptionally challenging times," said Michelle McKenzie, Director of Marketing at Visit Vancouver USA. "Just as local restaurateurs have adjusted, we are tweaking Dine the Couve in subtle ways to fit with current guidelines and restaurant needs."
One of those modifications is enabling restaurants to offer three-part takeout menus, in addition to dine-in, for a grab-and-go meal to take back home, to a hotel, or local park. The 3 for $25 menus differ from other dining celebrations in that they can be any three items and don't need to follow the traditional three-course meal approach. Menus can offer the classic appetizer, entrée, and dessert choice, or take a more unique approach by mixing in craft drink pairings, a variety of small plates, or menus designed to share.
Also new this year, the program has expanded eligibility to restaurants throughout Clark County, encouraging support for a wider range of restaurants. The program also opened up to meals outside the traditional dinner hours, so diners can find something to satisfy their taste buds all day long.
Newcomers this year include Moo Burgers and Beer (The Mighty Bowl's new plant-based dinner shop), Slow Fox Chili Parlor, Bleu Door Bakery, and Camas' Feast at 316. Stalwarts Rally Pizza, Beaches Restaurant & Bar, and Vancouver Pizza Co. continue to participate with fresh ideas and menus. Local breweries tap into their on-site food carts or kitchens to mix-and-match with tacos, pizza, and one-of-a-kind beers.
Menus are posted online at VisitVancouverUSA.com/DineTheCouve, and Visit Vancouver USA encourages participants to use #DineTheCouve to share dining experiences on Facebook, Twitter, and Instagram.
Participating restaurants include:
| | |
| --- | --- |
| Back Alley Bar & Grill | Locust Cider & Brewing Co. |
| Barlows Public House | MADdogs Gourmet Hot Dogs |
| Beaches Restaurant & Bar | Moo Burgers and Beer |
| Bleu Door Bakery | Mt. Tabor Brewing – The Pub |
| C'est La Vie | Niche Wine Bar |
| Eatery at the Grant House | NOM NOM Restaurant & Grill |
| Elements Restaurant | Nonavo Pizza |
| Farrar's Bistro | Pacific House (both locations) |
| Feast at 316 | Rally Pizza |
| Final Draft Taphouse | Say Ciao! Tap Room & Eatery |
| Ghost Runners Brewery | Slow Fox Chili Parlor |
| Grady's Public House | Taco Spaceship / Fortside Brewing Co. |
| Grays Restaurant | Trusty Brewing |
| Hopworks Urban Brewery | UnderBar |
| Hudson's Bar & Grill | Vancouver Pizza Company |
| Juliano's Pizzeria | Vault 31 Bar |
| Little Italy's Trattoria | Vinnie's Pizza |
About Visit Vancouver USA
Visit Vancouver USA is the official destination marketing organization for Vancouver USA and the surrounding areas. The organization also markets the region as a venue for sports events through the Vancouver USA Sports brand. Visit Vancouver USA's mission is to increase visitor spending in Vancouver and Clark County through competitively marketing the area as a destination for meetings, conventions, and group and leisure travelers. For more information call 360-750-1553, or visit
www.VisitVancouverUSA.com
.
# # #