Vancouver's Waterfront Community
The curves of the Columbia River hold a wealth of cultural and recreational experiences for visitors to explore. From shopping and dining to water sports and parks, Vancouver's waterfront community continues to grow.
What does a day at The Waterfront look like? Plan to grab a fresh seafood dish on the WildFin patio—or swing by the seasonal walk-up What A Catch Fish Bar window for a quick bite of fish 'n' chips and a soft-serve ice cream cone—while watching sailboats pass by the 90-foot Grant Street Pier⁠. A gathering place for all who visit the Waterfront, the cable-stayed pier is the focal point of the 7.3-acre Waterfront Park, complementing the surrounding $1.5 billion project by Gramor Development. Grab a local beer from Ruse Brewing or The Waterfront Taphouse, or sip a Washington wine from one of the eight wine tasting rooms within a few blocks of one another. Head to Twigs Bistro if a martini is your drink of choice, or simply enjoy a tasty supper while the sun sets on the horizon.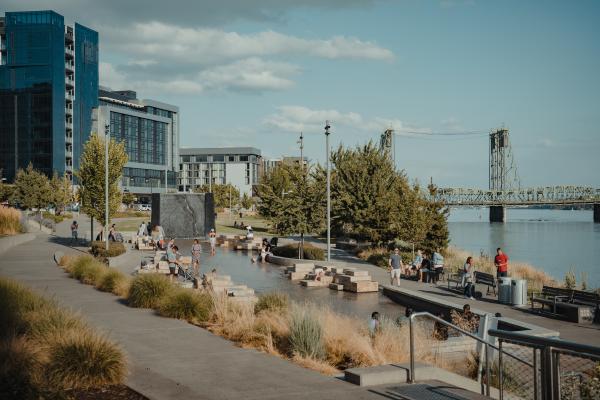 On a hot summer day, bring the kids to play in The Headwaters Wall—an interactive water play feature, complete with a bronze topographical map of the Columbia River's watershed. You can also find an open lawn great for cartwheels, an urban beach for sandcastles, and seating areas perfect for picnics. The Waterfront Renaissance Trail connects to the park, extending the current five-mile trail from Vancouver's urban core to Wintler Park and across the Vancouver Land Bridge to Fort Vancouver. 
Settle in before setting out at one of the newly opened waterfront hotels. From sweeping views of the Columbia River to the glowing Grant Street Pier and the Portland skyline, the hotels offer an elevated feel, welcoming guests to the north shore. The AC Hotel by Marriott is the first modern hotel to hit the Waterfront, bringing sleek, contemporary designs complete with a full-service restaurant (AC Lounge) on the main floor. 
Next door, Hotel Indigo delivers stylish décor and a fun atmosphere. Visitors are also invited to sample some premiere Northwest restaurants within the building like Portland steakhouse El Gaucho (with a rooftop lounge) and the Seattle mainstay 13 Coins. Plus, find Evoke Wine Bar (formerly Naked Winery) with its wisecracks and creativity on the ground floor. 
At the adjacent Terminal 1, the Port of Vancouver is planning a public marketplace that will supplement downtown's thriving Farmers Market.
Timeline
2018
Grant Street Pier, Waterfront Park, Twigs Bistro & Martini Bar, WildFin American Grill
2019
Maryhill Winery Tasting Room, Barlows Public House (closed), Stack 571, Headwaters Wall (water feature), Pepper Bridge Winery & Amavi Cellars
2020
Brian Carter Cellars, Airfield Estates, Valo Cellars & Massalto Wine, Barnard Griffin Winery
2021
Kafiex Roasters Gastro Café, DOSALAS Latin Kitchen + Tequila Bar, The Yard Milkshake Bar
2022
Pop-Local, Ruse Brewing's Crust Collective, Grassa, AC Hotel Marriott Vancouver Waterfront, The Waterfront Taphouse, Willamette Valley Vineyards, Hotel Indigo Vancouver, El Gaucho, 13 Coins, Witness Tree Lounge
2023
Evoke Winery