While there's no such thing as a bad season in Vancouver USA, autumn might just take the cake for the most beautiful time to visit. From the colorful hikes to the crisp air and fresh produce, there isn't a better place to fully experience the splendor of the season. And the best part: We took out all the guesswork to making the most of the sights, smells, and tastes—all you have to do is follow our guide! So grab a mask and a jacket, and start marking things off our Vancouver USA Autumn Checklist.
Stock up on fresh produce at the Fall Farmers Market
From locally grown autumn harvests to freshly made pies, nothing beats the Vancouver Farmers Market when it comes to taking in all the flavors of fall. Grab a seasonally crafted hot beverage from nearby Kafiex Coffee Lab or Twin Cylinder's coffee cart to enjoy while you shop.
Dine the Couve (+ Clark County!)
While we're on the subject of flavor, be sure to come to Vancouver during October because it's dining month! Find 3 for $25 menu specials at 34 participating restaurants throughout the county. (Hint: Share your meal photos to Instagram using #DineTheCouve for the chance to win gift cards throughout the month! Stay tuned for more information.)
Make it a spooky movie night
While we (im)patiently wait for the beloved historic Kiggins Theatre to re-open, they're still offering up movie screenings you can enjoy from the comfort of your couch! Make it a true movie night by heading downtown on the weekends to grab their delicious popcorn to-go. Don't forget to also pick up a six-pack of beer from nearby Trusty Brewing or a bottle of wine from neighboring Niche Wine Bar.
Take a Haunted Walking Tour–virtually!
Learn fun, spooky historical facts about Vancouver on a Haunted "Walking" Tour with the Clark County Historical Museum! Grab a spooky-themed baked good from a local bakery like Bleu Door, Chandelier, or Treat beforehand to sweeten the ghoulish evening.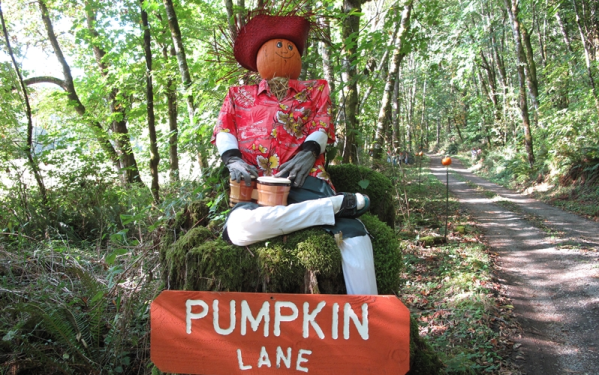 Drive-thru: Pumpkin Patch Edition
The annual Pumpkin Lane at Pomeroy Farm lives on—with a twist! Enjoy pumpkin characters and scenes from inside your warm car. Grab some grub from a food cart and a pumpkin to carve for later. If you're looking for a classic pumpkin patch experience, check out Joe's Place for their last season after serving the community for nearly 75 years.
(Pumpkin) Spice up your wardrobe & home décor 
Local boutiques are stocked with curated fashion and home goods just waiting to add the right spice to your life as we begin to transition to cooler weather. Find cute, trendy clothes at Willows, Wild Fern, Doppleganger, Believe Boutique, and The Difference. For unique gifts and home goods, head to Not Too Shabby, Kindred Homestead Supply, and PICNIC NW.
Participate in the virtual BirdFest & Bluegrass Festival
BirdFest and Bluegrass has been running for 21 years and teaching participants about the importance of the Ridgefield National Wildlife Refuge along the way. Participate in the annual festival virtually while learning about the culture and history of the SW Washington natural area! Head to the Refuge on a weekend later in the month to explore all the critters you learned about during the festival.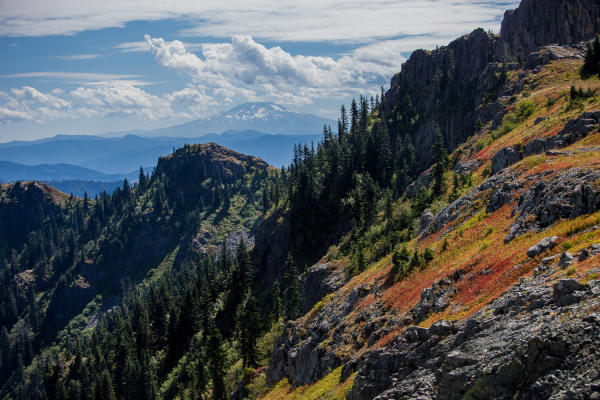 Get outside & take in the sights
Grab a baked good and a hot beverage from a local coffee shop and hit the pavement! Find miles of walking trails and awe-inspiring views of the changing seasonal colors around Clark County. Or step up the challenge and go for a fall hike to really take in the full beauty of autumn in SW Washington.
Cozy up to a staycation in The Couve
We could all use an escape from the status quo, especially as cold weather creeps in and our outdoor options become more limited. Head to The Heathman Lodge for a weekend staycation in a cozy lodge setting or the Briar Rose Inn for a classic bed & breakfast in a historical Craftsman style home. Queue up the "Out of Office" autoreply and get ready to relax.
Stock up on rainy day activities at local specialty shops
Show small businesses some love while finding everything you could ever need to make rainy days the best days. Find games and toys at Kazoodles, Reckless Hobbies & Collectibles, and Fate and Fury Games; reading materials at I Like Comics and Vintage Books; art kits at Live Laugh Love Art; and music at 1709 Records and Everybody's Music.
Warm up with a Couve-crafted cocktail
Vancouver USA is home to many incredible bars that take handcrafted libations to the next level. Shaken or stirred, our local bartenders have you covered! Find complex notes at Amaro's Table, a collection of 50 Washington whiskeys at The Grocery Cocktail and Social's secret Whisk(e)y Parlor, and underground speakeasy vibes at UnderBar.
Take your PSL season up a notch or six on a roastery tour
Vancouver USA is home to six small coffee roasters that take the art of coffee to a new level. Find seasonal drinks, coffee beans by the bag, and plenty of delicious pastries to sweeten the journey. See how many you can check out this season: Creed Coffee Co., Sweet Touch Café, Paper Tiger Coffee Roasters, Relevant Coffee, Compass Coffee, and Kafiex Coffee Lab. 
Create-Your-Own Brewfest
We all missed the much-anticipated Vancouver Brewfest this summer, but luckily Clark County is home to more than 40 incredible breweries and taprooms that operate year-round, many with to-go cans available. Get adventurous with a Brewcouver passport and work your way through as many breweries as you can, or head to one of our incredible taprooms like Final Draft and Ben's Bottle Shop to create your own tasting tour of local craft brews!
BONUS: Participate in Northbank Beer Week Oct. 1 to 4. Get ready for a jam-packed weekend of celebrating all things SW Washington craft beer!