Whether you're a trick-or-treating ghoul, a pumpkin carving pro, or a harvest season enthusiast, these ghostly events around Vancouver USA will get you in the Halloween spirit. Watch horror classics in a 1930s theater, discover the mysterious happenings at the Vancouver Barracks, or wear your most creative zombie getup to a local brewery.
ON SCREEN & STAGE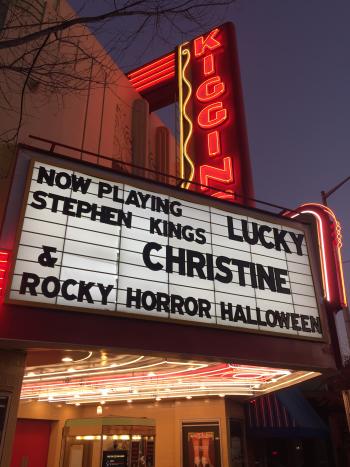 Kiggins Theatre presents a line-up of spooky films throughout the month of October, including their annual showing of the horror classic "Halloween." In addition to the Denton Delinquents' fourth Saturday and special October 31 performances of The Rocky Horror Picture Show, they will also take on zombies in "Shaun of the Dead" festivities on October 12.
Onstage, Magenta Theater presents a stylish mystery titled "Death in High Heels" and the quarter's History on Tap event tells haunting tales of Clark County. Featuring cannibalistic mates and mind control-practicing parasites, the month's Science on Tap focuses on the cruel aspects of the natural world. A horror-themed Re-Imagined Radio event and Frightmare on Main Street also dot the performance calendar.
PARTY TIME
What better way to get in the Halloween spirit than covered in fake blood and tasting local craft beer? Doomsday Brewing invites you to their Washougal location for the annual Zombie Brewfest (zombie attire encouraged). And in downtown Vancouver, at their Safe House, the pups will be dressed up for a Howl-a-ween Yappy Hour on October 26. Down on the waterfront, Warehouse '23 is hosting a Halloween Masquerade Ball on the Friday before the big holiday, complete with costumes, dancing, and a no host bar. In contrast, leave your masks at home for ilani's costume contest with BIG cash prizes.
Find small gatherings at local places, like Hocus Pocus Trivia at Growler USA, spooky karaoke at Renegades, and pumpkin decorating at Koi Pond Cellars and Sixth Avenue Bistro, scattered around the city. Take home a free pumpkin when you purchase a bottle of wine at Rusty Grape Vineyard starting October 2.
KID-FRIENDLY
Looking for something a little less scary and more G-rated? Bring the kids to Booville at the Luepke Community Center for indoor trick-or-treating, face painting, and a scarecrow walk. Swap out last year's costume for free at the Family Expo & Harvest Fair at the Clark County Event Center.
Get outside and enjoy nature during the Headless Horseman Chelatchie Prairie Train Ride or try your hand at apple cider pressing at the historic Cedar Creek Grist Mill. Take a hay ride at Pomeroy Farm to see all the pumpkin people of Pumpkin Lane every full weekend in October.
TAKE A TOUR
Join the Clark County Historical Museum for a Haunted Walking Tour around some of Vancouver's oldest neighborhoods. (Warning: They sell out fast, but you can get on the waiting list.) Get spooked at the Clark County ScareGrounds at the Event Center, featuring haunted houses and ghouls galore. For a special Brews and BOOs experience, go behind-the-scenes at a brewery before riding to the ScareGrounds for a VIP tour with exobus. Learn about Fort Vancouver's past as the Hudson's Bay Company with a lantern tour through reconstructed buildings like the Fur Store and Bake House. And join local historian Jeff Davis on a first-hand experience Spirit Tales tour of the Vancouver Barracks' shady past.
To find more events happening in Vancouver USA, visit our Events Calendar.