We've got the perfect excuse to end any date night drought: Dine the Couve. Vancouver USA's annual dining month not only offers great deals (3 items for $23 and $3 brews), it is also your chance to branch out and try something new. So call the babysitter (or dog-sitter) and choose a Vancouver USA-style date, inspired by October's Dine the Couve.
#1: Dinner and a Movie Classic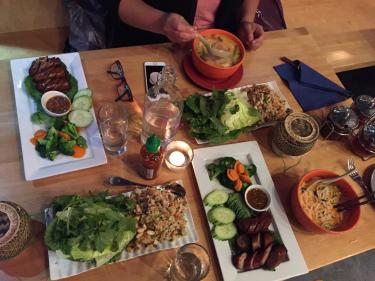 A recent addition to the downtown dining scene, NOM NOM Restaurant and Grill's location can't be beat. Situated right next to Regal City Center Cinema Stadium 12 on C Street, you can follow up dinner with this month's latest thriller or holiday comedy. Or take advantage of the $3 lagers on tap post-flick—NOM NOM is open until 1 a.m. on Fridays and Saturdays.
Serving up a culinary blend of Vietnamese and Thai influences, you'll find Vegetable Tom Kha soup or Kao Poon Nam Gai on the menu for an appetizer choice. Nem Kao is the second course before Spicy Sausage or the house special stir fry.
If NOM NOM sounds good, you might also like: Tommy O's Pacific Rim Bistro brings contemporary island favorites to Vancouver USA. The Dine the Couve menu offers lots of choices, including pork spring rolls, kalua pork, teriyaki chicken, and haupia or banana bread pudding for dessert. For a classic film favorite or the latest indie flick, head up the street to Kiggins Theatre.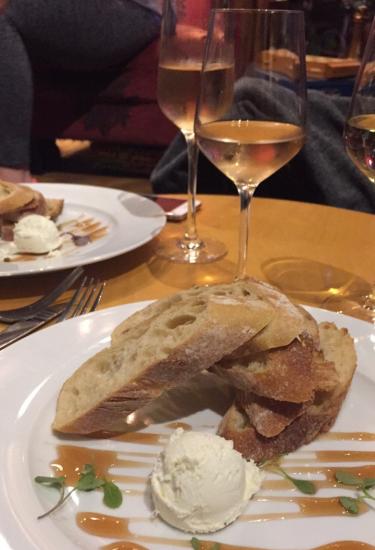 #2: Romantic Wine Outing
Head to Niche Wine Bar & Bistro or Willem's on Main for an upscale dining experience, complete with an optional wine flight add-on. Niche's dimly lit space will leave you feeling cozy, after enjoying spaghetti with Greek-seasoned lamb meatballs to pair with your sparkling rosé.
Choose between a slow-cooked meat ragu fettucine and a sautéed spätzli with oven roasted root vegetables at Willem's. Finish the night off right with the dessert course: crème brûlée paired with a Sauternes (a sweet French wine).
If Niche and Willem's sound good, you might also like: The Dine the Couve menu at Ferrar's Bistro includes two glasses of wine with a Figgy Piggy flatbread to share between the two of you—all for $23. And La Bottega has three pasta choices for the second course, in addition to its regular wine list that is quite expansive (and weekly Wednesday wine tastings with half off bottle discounts).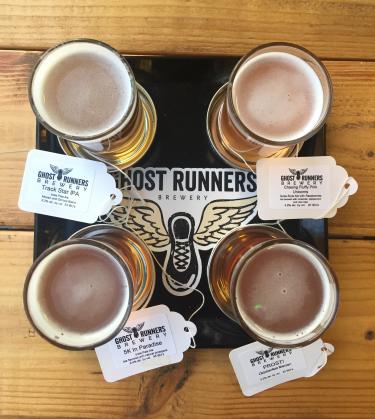 #3: It's All About the Beer
You'll be hard-pressed to find a $3 craft brew these days, except during Dine the Couve in Vancouver USA. Ghost Runner's Brewery is offering a set of four tasters for $3. Split it with your date and choose your favorite for a pint! All with running-inspired names, you might find yourself sipping on a 5K IPA or Chasing Fluffy Pink Unicorns (a raspberry Gose).
If Ghost Runner's Brewery sounds good, you might also like: Fortside Brewing is offering up their Couve A'licious Brown Ale and Fortside IPA for $3. If you're looking for a tap house or brewery that is offering a food menu for Dine the Couve, head to Ben's Bottle Shop or Mt. Tabor Brewing.