Vancouver USA's growth in 2018 ranged from the big and splashy (hello, new waterfront!) to the small but significant (we see your fresh new looks, renovated restaurants and coffee shops). Join us in taking a moment to remember all the notable newcomers and restaurant shakeups of 2018.
RESTAURANTS
With views of the Grant Street Pier and Columbia River, Washington notables Twigs Bistro and WildFin American Grill have been popular additions to the local foodie scene since their opening in late September. Supplying a true breakfast of champions, Syrup Trap's specialty Liege waffles have been quite the hit. Alternately, late night (and really any time of day) hot spot Amaro's Table opened with specialty cocktails and a must-try happy hour menu.
Other mentions: Grays Restaurant (at the Hilton Vancouver) and Boomerang Bistro both underwent major renovations and branding changes. Conversely, while the interior looks the same, Elements Restaurant (previously Willem's on Main) saw a big title shift with the introduction of a new chef and owner. Pacific House added a location on the east side. Woody's Tacos is also working on a new space to the east but had to close their decade-long establishment in downtown Vancouver.
BREWERIES & WINERIES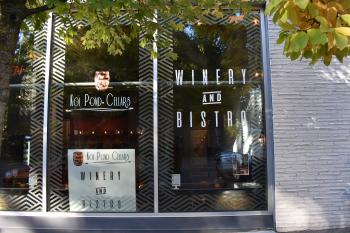 While the level of suds on tap in the Couve remained fairly consistent compared to previous years of rapid brewery growth, Ridgefield got its first brewery with Hookum Brewing Company,and Hillbilly Brewing opened their old barn to serve north Vancouver locals. Broken Oak Winery is open for business in Battle Ground, and Koi Pond Cellars established a new tasting room in downtown.
Other mentions: Taprooms continue to pop up in all corners of the city. Growler USA, Taps Growler House, and Gossip in the Grain all opened in 2018, serving a variety of local brews. Vancouver patiently awaits the opening of Maryhill Winery and Barlow's Public House at the waterfront in the first half of 2019.
FOOD TRUCKS
Roaming food trucks come and go throughout the year with staple Vancouver carts outlasting the trend. Some noteworthy newbies include Stanwich, Soup'R Sammiches, and Anchor End (specializing in pretzel sandwiches)...we see a trend here.
Other mentions: The owner of Ingrid's Good Street Food and Paleo Grill closed her trucks to work on a brick and mortar location slated to open in March in Uptown Village.
MORE
There was a lot of excitement surrounding the long-awaited opening of the buffet maven Golden Corral on NE Fourth Plain Blvd. Boosting the bar scene, UnderBar became Vancouver's first underground speakeasy, and Shanahan's added a whiskey infirmary. Already part of the community, Kafiex Roasting created a Coffee Lab next to Esther Short Park and Creed Coffee Co. opened at The Shops at Erickson Farms. This new Felida neighborhood development is also waiting for a Mexican restaurant to open early next year. More margaritas please: Los Pepes opened at the Vancouver Mall.
Read the 2017 Openings and Revamps for a blast from the past.