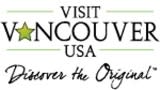 FOR IMMEDIATE RELEASE
January 13, 2015
For more information:
Jacob Schmidt
360-750-1553 Ext.519
jschmidt@VisitVancouverUSA.com
Visit Vancouver USA Announces 2015 Board of Directors
2015 slate includes economic development leaders and new hotel partners
VANCOUVER, Wash. - Visit Vancouver USA is pleased to announce its board of directors and officers for 2015. The board of directors is comprised of hospitality and business professionals, community leaders, and City and County representatives who are responsible for building community-wide support for the tourism industry in Clark County.
For the 2015 term, Brian McClary, director of operations of the Heathman Lodge, assumes the position of board chair. Melinda Wulf, general manager of DoubleTree by Hilton, will fulfill the role of vice chair. Carla Rise, general manager of Residence Inn by Marriott, has been elected secretary/treasurer. New directors include Mike Bomar, president of the Columbia River Economic Development Council; Taylor Nintzel, general manager of Hampton Inn & Suites; and Jeanne Stewart, Clark County Council.
Returning directors for 2015 are as follows:
Jan Bader - City of Vancouver, program & policy development manager
Kimberly Bennett - Visit Vancouver USA, president & CEO 
Jordan Boldt - Vancouver Farmers Market, executive director
Alison Hite - SpringHill Suites by Marriott, general manager
Kari Jonassen - Homewood Suites by Hilton, general manager
John Morrison - Clark County Event Center and Fairgrounds, executive director and CEO
Eric Walters - Hilton Vancouver Washington, general manager
About Visit Vancouver USA
Visit Vancouver USA is the official destination marketing organization for Vancouver USA and the surrounding areas. The organization also markets the region as a venue for sports events through the Vancouver USA Sports brand. Visit Vancouver USA's mission is to increase visitor spending in Vancouver and Clark County through competitively marketing the area as a destination for meetings, conventions, and group and leisure travelers. For more information call 360-750-1553, or visit www.VisitVancouverUSA.com.
# # #