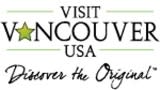 FOR IMMEDIATE RELEASE
January 10, 2013
For more information:
Tallie Mattson
360-750-1553 Ext. 19
marketingadmin@visitvancouverusa.com
VANCOUVER USA TO HOST LARGEST PIGEON SHOW IN THE COUNTRY National Pigeon Association 2013 Grand National expected to bring over 300 show attendees
VANCOUVER, Wash.- Vancouver USA will be the home of the National Pigeon Association's 2013 Grand National Show and Convention January 17-19. Participants will showcase over 200 breeds of exhibition pigeons at the Hilton Vancouver Washington. The event will attract approximately 3,500-3,700 prized pedigree pigeons of various breeds to be shown by fanciers from all over the country.
"We are pleased to be chosen as the destination for the 2013 Grand National Show and Convention," said Kim Bennett, president and CEO of the Vancouver USA Regional Tourism Office. "Vancouver USA is a prime location to host conventions like this one. Vancouver is a very pet-friendly community with many venues welcoming pets of all fur and feather."
The exhibition pigeons will be judged on the standard of perfection, used as a guide for the breeder in producing show pigeons that closely resemble the ideal. Birds are rated on a scale of 0-100.
The three day event is free and open to the public. Bird viewing times are 8 a.m.-10 p.m. Thursday, Jan. 17; 8 a.m.-5 p.m. Friday, Jan. 18; and 8 p.m.-4 p.m. Saturday, Jan. 19.
The Grand National Show is hosted by the Central Pacific Pigeon Club, Columbia Basin Pigeon Club, and Puget Sound Pigeon Club. Additional volunteering clubs are the Vancouver Poultry & Fancy Pigeon Association, Northwest Pigeon Fanciers, Treasure Valley Pigeon Club, and Snohomish County Pigeon Fanciers.
About Vancouver USA Regional Tourism Office
The Vancouver USA Regional Tourism Office, along with the Vancouver USA Regional Sports Commission, is an economic development organization responsible for competitively marketing Vancouver and the surrounding area as a destination for meetings, conventions, sports events, and group and leisure travelers. The organization's mission is to promote Vancouver and Clark County by increasing convention and visitor business. For more information call 360-750-1553, or visit www.VisitVancouverUSA.com.
###