FOR IMMEDIATE RELEASE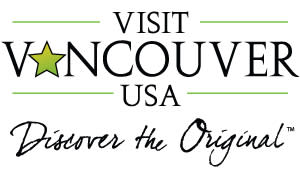 Sept. 2, 2014
For more information:
Jacob Schmidt
360-750-1553 Ext.519
jschmidt@VisitVancouverUSA.com
Vancouver USA Regional Tourism Office now accepting nominations for 2014 Tourism Awards

Nominate a rising star and help recognize those contributing to Clark County tourism
VANCOUVER, Wash. - The Vancouver USA Regional Tourism Office is now accepting nominations for the eighth annual Vancouver USA Regional Tourism Awards. The awards recognize key individuals and organizations that have made significant contributions to tourism and economic growth in the region.

"The impact of tourism has far-reaching effects in our community. From hotels and restaurants, to shops and seasonal events, tourism is an economic driver for Clark County," said Kim Bennett, president & CEO of Vancouver USA Regional Tourism Office. "The Tourism Awards give our community a chance to honor the organizations and individuals that have continually demonstrated creativity, innovation, and leadership in their efforts to draw tourists and visitors to our area."

To nominate a person, event, or business, visit the Tourism Office's award-winning website www.VisitVancouverUSA.com, which serves as a community resource for visitors, meeting planners and area residents. The three categories open for nominations until Oct. 1 are:
Tourism Ambassador Award - From a server at a local restaurant to a front desk representative or tour guide, tourism ambassadors can be anyone who works directly with visitors to the region. This award recognizes the achievements and outstanding contributions of an individual who continually strives to enhance the experience of visitors.
Outstanding Tourism Professional - This award honors an individual who has gone the extra mile to promote the tourism industry in Clark County. Nominees should have a history of innovation and leadership when it comes to promoting Vancouver USA and Clark County as an ideal tourist destination.
Spirit of Tourism Award - This award recognizes an attraction, venue, event or business that has contributed to the economic vitality of the region by attracting tourists to Vancouver USA and Clark County. The award winner will have a proven track record of drawing visitors to the region.
In addition to recognizing the outstanding work of individuals and organizations in the area, the Tourism Awards also promote further awareness of tourism as a vital part of Clark County's economy. In 2014 visitor spending in Clark County
exceeded $467 million;
generated more than $31,000 in local and state taxes;
and
supported more than 4,100 Clark County jobs with more than $122 million in earnings.
The Vancouver USA Regional Tourism Awards are a grassroots platform aimed at recognizing those who excel at bringing business into the community. After reviewing the nominations, three winners will be selected by the Tourism Office and announced Nov. 3.
Local Chambers of Commerce will again co-sponsor the awards this year and solicit nominations from their members. Sponsoring organizations include the Greater Vancouver Chamber of Commerce, the Battle Ground Chamber of Commerce and the Camas-Washougal Chamber of Commerce. The City of Vancouver, Clark County Board of Commissioners and the Clark County Lodging Association are also supporting the awards.
Videos featuring interviews with award winners from previous years can be found on the Tourism Office's YouTube channel at www.youtube.com/user/VisitVancouverUSA.

About Vancouver USA Regional Tourism Office
The Vancouver USA Regional Tourism Office is an economic development organization responsible for competitively marketing Vancouver and the surrounding area as a destination for meetings, conventions, and group and leisure travelers. The organization also markets the area as a venue for sports events through the Vancouver USA Regional Sports Commission. The Regional Tourism Office's mission is to increase visitor spending in Vancouver and Clark County. For more information call 360-750-1553, or visit www.VisitVancouverUSA.com.
# # #