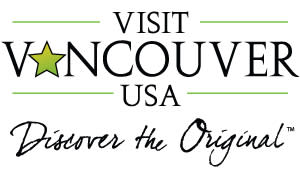 FOR IMMEDIATE RELEASE
November 4, 2013 

For more information:
Jacob Schmidt
360-750-1553 Ext.19
jschmidt@VisitVancouverUSA.com
VANCOUVER USA REGIONAL TOURISM OFFICE ANNOUNCES 2013 TOURISM AWARDS WINNERS
Local award winners showcase a spirit of tourism advocacy and visitor service
VANCOUVER, Wash. - The Vancouver USA Regional Tourism Office has announced the recipients of the seventh annual Clark County Tourism Awards. The awards honor individuals and organizations that have made considerable contributions to tourism and economic growth in Clark County.
"There are many tourism heroes in our communities that have positively impacted economic growth in Clark County," said Kim Bennett, president and CEO of the Vancouver USA Regional Tourism Office. "This year's Tourism Award winners truly embody what it means to be a tourism hero-they showcase the effort, innovation and leadership our community needs to attract visitors to Clark County."
The three category winners were nominated by their peers and then selected by the Vancouver USA Regional Tourism Office. The 2013 Tourism Award winners are:
The Tourism Ambassador Award - Cecily Leonhardt works the Clark County tourism industry front-lines serving visitors in Hudson's Bar & Grill at The Heathman Lodge. As a true ambassador, she not only happily welcomes guests, but also offers visitors suggestions tailored to fit their interests. She continually strives to enhance the experience of visitors and is known for the consistent quality of customer service she provides. 
The Outstanding Tourism Professional Award - Colleen Potter is known in the community for her continual efforts supporting the tourism industry in Clark County. As the Director of Sales for The Heathman Lodge, Colleen regularly contributes to the economic impact of the tourism industry through group sales and conventions. Colleen's dedication, diligence and innovation all show in her tireless efforts to showcase the amenities and attractions that make Southwest Washington a premier meetings destination.
The Spirit of Tourism Award - The Kumoricon Anime Convention
may be best recognized by its colorful costumes, but it can also be recognized by the vibrant energy it brings to downtown Vancouver. The annual event held by Altonimbus Entertainment celebrates anime and Japanese culture and draws fans from across the nation and Canada to partake in the festivities. Aside from putting on a good show, Kumoricon also contributes to the economic vitality of the region by attracting thousands of visitors to Vancouver USA over Labor Day weekend.
Tourism is a vital part of Clark County's economy and is one of the leading generators of employment in the area. In 2012:
Visitor spending in Clark County exceeded $446 million
Visitor spending generated more than $29 million in local and state taxes
Tourism supported more than 4000 Clark County jobs with more than $111 million in earnings
Local Chambers of Commerce co-sponsored the awards and solicited nominations from their members. Sponsoring organizations include the Greater Vancouver Chamber of Commerce, the Battle Ground Chamber of Commerce and the Camas Washougal Chamber of Commerce. The City of Vancouver, Clark County and the Clark County Lodging Association also supported the awards.
Featured video interviews of the award recipients can be seen online at the Tourism Office's website, www.VisitVancouverUSA.com, or on YouTube, www.youtube.com/VisitVancouverUSA.

About Vancouver USA Regional Tourism Office
The Vancouver USA Regional Tourism Office is an economic development organization responsible for competitively marketing Vancouver and the surrounding area as a destination for meetings, conventions, and group and leisure travelers. The organization also markets the area as a venue for sports events through the Vancouver USA Regional Sports Commission. The Regional Tourism Office's mission is to increase visitor spending in Vancouver and Clark County. For more information call 360-750-1553, or visit www.VisitVancouverUSA.com.
# # #