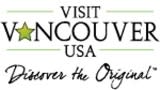 FOR IMMEDIATE RELEASE
May 5, 2015
For more information:
Jacob Schmidt
360-750-1553 Ext. 519
jschmidt@VisitVancouverUSA.com
Tourism to Clark County grows for fifth consecutive year, posed for more
New report reveals Vancouver area visitors spent $481 million in 2014

VANCOUVER, Wash. - Tourism to Clark County continued its upward growth trajectory in 2014 according to recently released numbers from the Washington State Travel Impact and Visitor Volume report. The report reveals that visitors to Clark County spent $481 million in 2014--a 3.1 percent rise from 2013.

"We had a healthy year of growth that was buoyed in part by the addition of new lodging properties on the east side and robust occupancy rates at Vancouver's hotels," said Kim Bennett, president and CEO of Visit Vancouver USA. "With more hotels on the way and plans for new developments on the waterfront, we have even more confidence in the strong growth potential for Vancouver as a travel and convention destination."
In total, visitors to Clark County spent $481 million, generated $123.8 million in job earnings, supported a workforce of 4,220, and generated more than $41.9 million in local and state taxes. Statewide, visitors spent more than $19 billion in 2014.
Conducted annually by Dean Runyan Associates for the Washington Tourism Alliance, the Washington State Travel Impact and Visitor Volume report analyzes travel economic impacts at the state, regional and local level. This marks the fifth consecutive year of reported tourism growth for Clark County.
For more information, access the full Clark County report and the limited statewide summary.
About Visit Vancouver USA
Visit Vancouver USA is the official destination marketing organization for Vancouver USA and the surrounding areas. The organization also markets the region as a venue for sports events through the Vancouver USA Sports brand. Visit Vancouver USA's mission is to increase visitor spending in Vancouver and Clark County through competitively marketing the area as a destination for meetings, conventions, and group and leisure travelers. For more information call 360-750-1553, or visit www.VisitVancouverUSA.com.
# # #