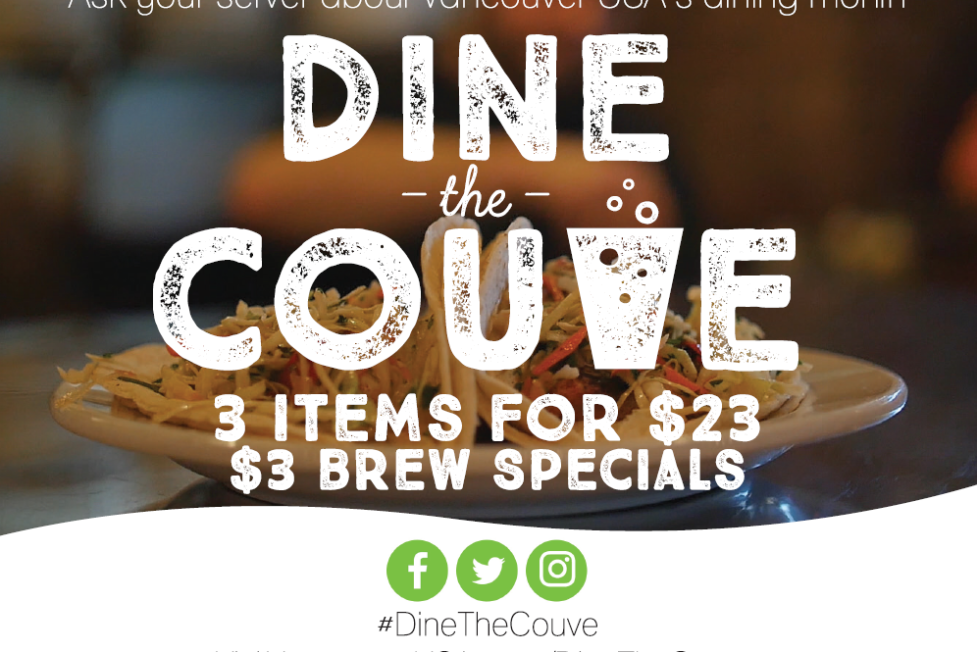 Visit Vancouver USA expands Dine the Couve with new restaurants and specials this October.
VANCOUVER, Wash. – This October, Visit Vancouver USA will present Dine the Couve to local foodies and culinary tourists alike. The second annual dining month will bring together 22 original eateries from across Vancouver USA to serve three items for $23 (alongside regular menu offerings), while five breweries and taprooms will offer $3 drink specials for the entire month.
"This year's Dine the Couve has expanded to restaurants beyond downtown to encompass the breadth and diversity of Vancouver USA's dining scene," said Kim Bennett, president and CEO of Visit Vancouver USA. "We are excited to celebrate the unique and locally-inspired dishes that our restaurants continue to surprise us with at an affordable price point."
All participating restaurants will provide diners with a three-part menu, which may include any combination of soup, salad, appetizer, entrée, dessert or craft beverage.
New participants this year include recent additions to the area's restaurant scene, such as Little Conejo, NOM NOM Restaurant & Grill and Sixth Avenue Bistro. Longtime favorites like Willem's on Main, Niche Wine Bar and Beaches are participating again this year with new dining month menu specials.
All menus for Dine the Couve can be found online at VisitVancouverUSA.com/DineTheCouve. Use #DineTheCouve to share dining experiences on Facebook, Twitter, and Instagram.
Participating restaurants include:
Beaches Restaurant
Ben's Bottle Shop
Farrar's Bistro & Bar
Gray's at the Park
The Grocery Cocktail & Social
Heathen Feral Public House
La Bottega
Little Conejo
Low Bar
Mt. Tabor Brewing – The Pub
Niche Wine Bar & Bistro
NOM NOM Restaurant & Grill
Rally Pizza
Say Ciao! Tap Room & Eatery
Sixth Avenue Bistro
Smokehouse Provisions
Tommy O's Pacific Rim Bistro
Uptown Barrel Room
Vancouver Pizza Company
WareHouse '23
Willem's on Main
Participating breweries and taprooms include:
Doomsday Brewing Safe House
Final Draft Taphouse
Fortside Brewing
Ghost Runners Brewery
Trusty Brewing
About Visit Vancouver, USA
Visit Vancouver USA is the official destination marketing organization for Vancouver USA and the surrounding areas. The organization also markets the region as a venue for sports events through the Vancouver USA Sports brand. Visit Vancouver USA's mission is to increase visitor spending in Vancouver and Clark County through competitively marketing the area as a destination for meetings, conventions, and group and leisure travelers. For more information call 360-750-1553, or visit www.VisitVancouverUSA.com.
# # #