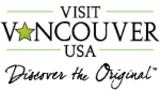 FOR IMMEDIATE RELEASE
May 2, 2013

For more information:
Lisa Howell
360-750-1553 Ext. 18
lhowell@visitvancouverusa.com
REVITALIZATION CONFERENCE IN VANCOUVER USA
REGENERATES ECONOMIC VITALITY THROUGH PRESERVATION
RevitalizeWA supports downtown, community efforts
VANCOUVER, Wash. - A statewide conference focused on advocacy and collaboration in creating vibrant and economically healthy downtowns will be held at the Hilton Vancouver Washington and Vancouver Convention Center, May 15-17. RevitalizeWA 2013 will engage delegates in strategies that promote collaboration, as well as review roles of individual communities for impact at the national level.
"RevitalizeWA is one of those great conferences that brings individuals from all over the state to our small meetings market to learn more about our thriving destination," said Kelsey Chappelle, senior convention sales manager at the Vancouver USA Regional Tourism Office.
Participants include downtown associations, chambers of commerce, small business owners, Washington's Main Street Network communities, preservationists, city and regional planners, elected officials, developers, and contractors.
Through engaging sessions, community representatives will be inspired to invigorate their local economies and downtown districts through advocacy of historic preservation and unifying strategies. Workshops will include; Hollywood on Main Street, hosted at the historic Kiggins Theatre, Preservation Advocacy Workshop, hosted at the Marshall House at Fort Vancouver National Site, and Excellence on Main Awards, at the Hilton Vancouver Washington.
Attendees will also hear keynote speaker Charles Marohn, Jr., executive director of Strong Towns, Minnesota. Strong Towns is a nonpartisan non-profit that supports a model for growth that allows America's towns to become financially strong and resilient.
"We are thrilled to be hosting RevitalizeWA in Vancouver where we can showcase success stories and the continuing efforts to revitalize the entire community," said Sarah Hansen, Washington mainstreet coordinator for Washington Trust for Historic Preservation.
For more information, visit the RevitalizeWA 2013 website.
About Vancouver USA Regional Tourism Office
Vancouver USA Regional Tourism Office is an economic development organization responsible for competitively marketing Vancouver and the surrounding area as a destination for meetings, conventions, and group and leisure travelers. The organization's mission is to promote Vancouver and Clark County by increasing convention and visitor business. For more information call 360-750-1553, or visit www.VisitVancouverUSA.com.
###