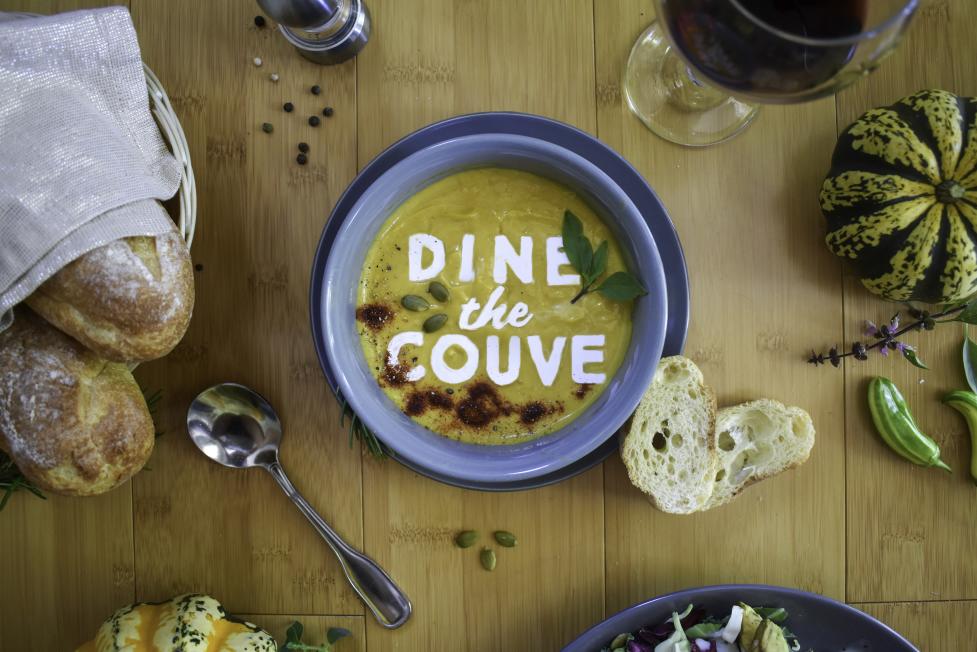 Thirty-two restaurants to participate in dining month promotion with special 3 for $20 and/or 3 for $30 menus
VANCOUVER, Wash. – Dine the Couve is back for the entire month of October as restaurants from across the city will offer 3 for $20 and/or 3 for $30 menus to local foodies and culinary tourists. Dining month provides the opportunity to try new local restaurants and support long-time favorites.
"Six years ago when the program was started, a main goal was to bring Vancouver forward as a dining destination," said Erica Lindemann, Director of Marketing at Visit Vancouver USA. "For the past couple of years, the goal of supporting our local restaurants and helping bring new and returning customers to keep their doors open has emerged as a priority."
Last year, takeout options were added as part of the program, and some restaurants are opting to offer their special menus for carry out again this year. A new component of dining month is the mobile-friendly Dine the Couve Restaurant Pass, offered in partnership with Bandwango, a travel technology platform.
"This will be our third pass with Bandwango, and it's proven to be easy-to-use and a great go-to spot for all the information," Lindemann said. "The pass will help categorize the menus, and we can better track how successful the program is to aid in adapting it for future years."
While participating restaurants and their Dine the Couve menus will still be hosted on Visit Vancouver USA's website, customers can sign up for the free pass and add the icon to their phone's home screen for easy access to all the details. When ordering from a Dine the Couve menu, find the restaurant's unique pin number on designed table cards (or ask a server) and enter it into your pass—order from five Dine the Couve menus (and enter the five pin numbers) throughout the month to be entered to win a $100 gift card to the participating restaurant of your choice.
The new price points for the program were decided based on restaurant survey feedback, and they allow for a larger variety of restaurants to participate. Newcomers to Dine the Couve include Auto's Pub, Brian Carter Cellars, Be Well Juice Bar, Hidden House Market, and The Heavy Metal Pizza & Brewing Co. Program veterans like Rally Pizza, Beaches Restaurant & Bar, Grays Restaurant, Hudson's Bar & Grill, and Farrar's Bistro continue to participate with fresh ideas and menus. Newly opened eateries like The Sedgwick, Mav's Taphouse, and Kafiex Roasters' Gastro Café join in on the annual tradition.
2021 participating restaurants include:
Auto's Pub
Barlows Public House
Beaches Restaurant & Bar
Be Well Juice Bar
Brian Carter Cellars Tasting Room & Wine Bar
C'est La Vie
Farrar's Bistro
Final Draft Taphouse
Ghost Runners Brewery
Grady's Public House
Grays Restaurant
Heathen Brewing Feral Public House
The Heavy Metal Pizza & Brewing Co.
Hidden House Market
Hudson's Bar & Grill
Juliano's Pizzeria 
Kafiex Roaster - Gastro Cafe
Kiawe Island Bistro
Locust Cider & Brewing
Loowit Brewing Company
MADdogs Gourmet Hot Dogs
Mav's Taphouse
Mt. Tabor Brewing - The Pub
NOM NOM Restaurant & Grill
Rally Pizza
Say Ciao! Columbia River Tap Room & Eatery
The Sedgwick
Slow Fox Chili
Taco Spaceship / Fortside Brewing Co.
Trusty Brewing Co.
UnderBar
Uptown Barrel Room
Use #DineTheCouve to share dining experiences on Facebook, Twitter, and Instagram.
About Visit Vancouver USA
Visit Vancouver USA is the official destination marketing organization for Vancouver USA and the surrounding areas. The organization also markets the region as a venue for sports events through the Vancouver USA Sports brand. Visit Vancouver USA's mission is to increase visitor spending in Vancouver and Clark County through competitively marketing the area as a destination for meetings, conventions, and group and leisure travelers. For more information call 360-750-1553, or visit www.VisitVancouverUSA.com.
# # #