October 19, 2012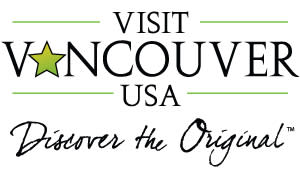 For more information:
Jill Daniel
360-750-1553 Ext 18
jdaniel@visitvancouverusa.com
 VANCOUVER USA REGIONAL TOURISM OFFICE OPENS THE 2012 CLARK COUNTY TOURISM AWARDS TO NOMINATIONS
An opportunity to acknowledge shining stars in the tourism industry
VANCOUVER, Wash. - The Vancouver USA Regional Tourism Office is now accepting nominations for the 6th Annual Clark County Tourism Awards. The awards recognize key individuals and organizations that have made significant contributions to tourism and economic growth in the region.
"There are many unsung heroes that have contributed greatly to tourism in Clark County," said Kim Bennett, president and CEO of Vancouver USA Regional Tourism Office. "The Tourism Awards pay tribute to these organizations and individuals that have gone above and beyond by displaying ingenuity, innovation, and leadership when attracting tourists and visitors to Southwest Washington."
To nominate a person, event, or business go to the Tourism Office website at www.VisitVancouverUSA.com, which recently underwent a bold transformation and is a great resource for visitors, meeting planners, and community members. The three award categories open for nominations until November 5th are:
Tourism Ambassador Award - From a server at a local restaurant, a front desk representative, or a tour guide, tourism ambassadors can be just about anyone who works directly with visitors to our region. This award recognizes the achievements and outstanding contributions of an individual who continually strives to enhance the experience of visitors.
Outstanding Tourism Professional - This award honors an individual who has gone the extra mile to promote the tourism industry in Clark County. She/he should have a history of ingenuity, innovation, and leadership when it comes to promoting Vancouver USA and Clark County as an ideal tourist destination.
Spirit of Tourism Award - This award recognizes an attraction, venue, event, or any other business that has contributed to the economic vitality of the region by attracting tourists and other visitors. The award winner will have a proven track record of attracting visitors to Vancouver USA and Clark County.
Tourism is a vital part of Clark County's economy and is one of the leading generators of employment in the area. In 2011:
Visitor spending in Clark County exceeded $424 million
Visitor spending generated more than $27 million in local and state taxes
Tourism supported 3,970 Clark County jobs with more than $111 million in earnings
Clark County Tourism Awards are a grass-root platform that recognizes those who excel at bringing business into the community. After reviewing the nominations, three winners will be selected by the Tourism Office board of directors and announced on November 26.
Local Chambers of Commerce's are co-sponsoring the awards this year and will solicit nominations from their members. Sponsoring organizations include the Greater Vancouver Chamber of Commerce, the Battle Ground Chamber of Commerce and the Camas Washougal Chamber of Commerce. The City of Vancouver, Clark County Board of Commissioners, and the Clark County Lodging Association are also supporting the awards.
Videos featuring interviews with the award winner from last year can be seen on the Tourism Office's YouTube channel at www.youtube.com/user/VisitVancouverUSA.
About Vancouver USA Regional Tourism Office
The Vancouver USA Regional Tourism Office, along with the Vancouver USA Regional Sports Commission, is an economic development organization responsible for competitively marketing Vancouver and the surrounding area as a destination for meetings, conventions, sports events, and group and leisure travelers. The organization's mission is to promote Vancouver and Clark County by increasing convention and visitor business. For more information call 877-600-0800, or visit www.VisitVancouverUSA.com.
###