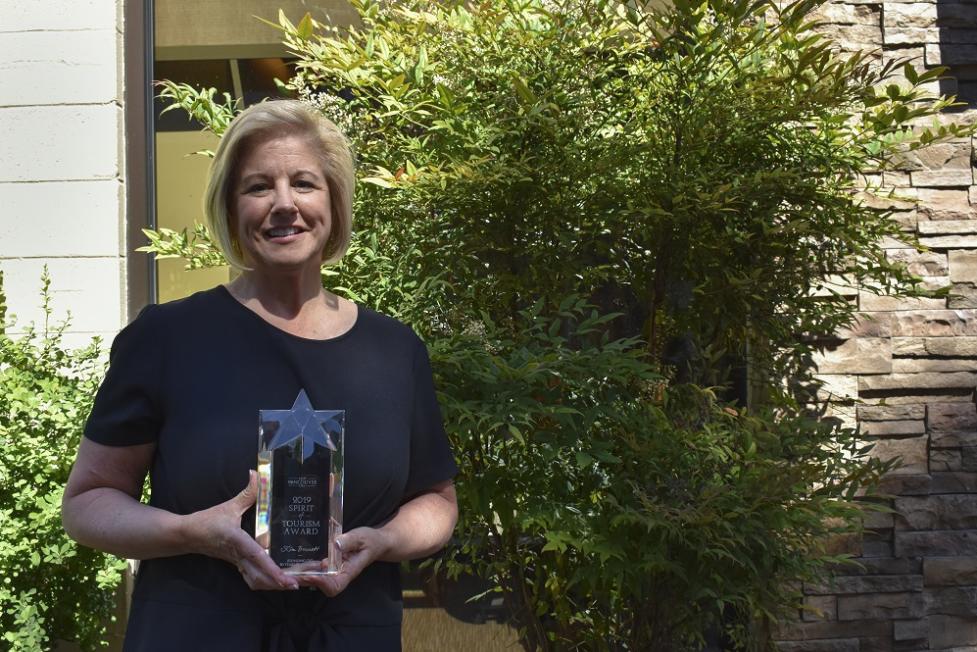 VANCOUVER, Wash. – Visit Vancouver USA has announced Kim Bennett as the recipient of the 2019 Spirit of Tourism Award in recognition of her 20 years of service to the organization and to the growth of tourism in Clark County. Bennett founded the tourism office in 1999 and retired on Friday, June 28.
"Kim more than meets the criteria for this award and we are honored to be able to give it to her as a token of appreciation and recognition for all that she has done for the community," said Michelle McKenzie, Director of Marketing at Visit Vancouver USA.
The Spirit of Tourism Award is presented annually by Visit Vancouver USA to an attraction, venue, event, business, or person that has contributed to the economic vitality of the region by attracting visitors to Vancouver and Clark County. The new Waterfront Park was the 2018 recipient, and the American Empress received the award in 2017.
Shortly after the tourism office's formation, visitor spending to the area represented $273.5 million in economic impact. By 2018 (the most recent year with reported numbers from Dean Runyan Associates), visitor spending numbers ballooned to $585 million—a more than 15 percent increase from the previous year. During her tenure, Bennett also grew the staff from a single employee to the current team of nine.
"Kim was instrumental in growing both leisure visitation and group business in Vancouver during the past 20 years. I can think of no person or entity more deserving of the 2019 Spirit of Tourism Award," said Mike McLeod, board chair of Visit Vancouver USA.
In addition to spearheading local tourism initiatives during a period of sustained economic growth, Bennett represented the office in statewide marketing efforts and prominent industry associations, buoying Vancouver's profile as a destination. Her involvement in the local and regional communities, and the state, has been influential in building a favorable reputation for the area.
Bennett said she is "truly touched and honored" for this special recognition.
To learn more about the tourism industry, please visit www.VisitVancouverUSA.com.
About Visit Vancouver USA
Visit Vancouver USA is the official destination marketing organization for Vancouver USA and the surrounding areas. The organization also markets the region as a venue for sports events through the Vancouver USA Sports brand. Visit Vancouver USA's mission is to increase visitor spending in Vancouver and Clark County through competitively marketing the area as a destination for meetings, conventions, and group and leisure travelers. For more information call 360-750-1553, or visit www.VisitVancouverUSA.com.
# # #